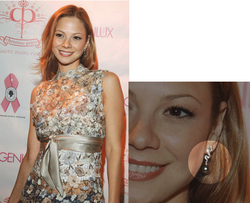 There are a growing number of Hollywood stars who are in search of unique pearl jewelry, especially jewelry that is made of exotic black Tahitian and golden South Sea pearls
San Francisco, CA (PRWEB) October 18, 2007
Pearl jewelry, from PremiumPearl.com, is a hot commodity in Hollywood these days. Emmy-nominated actress Tamara Braun, the former star of the ABC soap opera General Hospital, highlighted her evening wear recently by donning a pair of curl-shaped, black Tahitian pearl earrings, from PremiumPearl.com, at a star-studded event benefiting the Susan G. Komen Breast Cancer Foundation.
Braun is only one of an elite group of celebrities who have recently been spotted sporting pearl jewelry designed and sold by PremiumPearl.com. In fact, wearing uniquely-designed pearl jewelry is quickly becoming a growing trend in Hollywood.
"There are a growing number of Hollywood stars who are in search of unique pearl jewelry, especially jewelry that is made of exotic black Tahitian and golden South Sea pearls," says Yan Berry, the founder and creative director of PremiumPearl.com. "It's an honor to have celebrities, like Tamara Braun, who looked extraordinary at the Susan G. Komen Breast Cancer Foundation event, wearing our jewelry at Hollywood events."
Those pearls featured in Berry's collection include Akoya, Tahitian, South Sea, and Freshwater. And, while more women across the country are discovering the beauty of Berry's collection, her designs are quickly gaining the attention of some of Hollywood's hottest stars, including singer Fergie.
"Fergie viewed our collection and opted for a stunning gold South Sea pearl necklace that is made of three top quality golden South Sea pearls connected with gold chains. The smooth and modern design of the necklace looked particularly glamorous and sexy on Fergie," says Berry.
But, jewelry from PremiumPearl.com isn't only for Hollywood black-tie events. Berry also offers a collection of more casual pearl jewelry and recommends that celebrities who want to be more casual opt for a classic single strand white choker or a princess length necklace. Other popular pieces from her collection include baroque-shaped Tahitian necklaces, tip-cup style necklaces, and simple yet classic pearl earrings.
All of the jewelry offered by PremiumPearl.com is generally set in 14k or 18k gold and features high-quality, sparkling diamonds. Because both the pearls and the diamonds in Berry's jewelry are so shiny, Berry asserts, the jewelry stands out at Hollywood events and on the red carpet.
For more information on PremiumPearl.com and to check out Berry's latest designs, please visit http://www.premiumpearl.com.
###