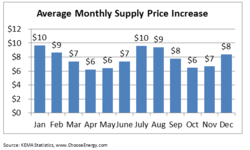 "Choose Energy is proud to offer a simple, objective and secure online energy shopping platform for Pennsylvania residents to utilize when selecting a new retail electricity supplier"
John Tough, Director of Business Development
Philadelphia, PA (PRWEB) March 13, 2013
Pennsylvania residents served by PECO are going to face a bit of a surprise when they open their April electricity bills. According to the Pennsylvania Public Utilities Commission, residential electricity prices will be increasing on April 1, 2013 for PECO Energy customers who have not yet shopped for a competitive electricity supplier. The present PECO price to compare rate, which includes power supply and select additional charges, will increase from $0.0869 per Kilowatt Hour to $0.0959, an increase of 10.4%.
This rate increase means that the nearly 70% of residential addresses that are still served by the default PECO service are going to see their annual electricity bills increase by nearly $100, and annual supply bills could break $1,000 for the first time.
However, Pennsylvania residents do have an option to select a different electricity supplier through sites such as ChooseEnergy.com, and potentially reduce their residential electricity rates through longer-term fixed contracts. Through the PA Power Switch program, local Philadelphia residents have utilized the customer option to choose a different electricity supplier. In fact, just last month the PAPowerSwtich.com website indicated that over 2 million Pennsylvania households have actively migrated their electricity supply over to a licensed electricity supplier, making Pennsylvania one of the most advanced deregulated energy states.
As Philadelphia residents explore their energy supply options, these residents should consider the leading online energy enrollment site, ChooseEnergy.com. The ChooseEnergy.com site aims to simplify the conversion process, educate the Pennsylvania Electric Company residents on the Pennsylvania electric choice programs and allow local residents to do the entire process seamlessly online. By migrating online and integrating directly with the premier electricity brands, Choose Energy, Inc. attains optimal market rates, and allows the resident to avoid being badgered by aggressive salesmen.
As the spring months heat up and these price rates go into effect, it is wise for all Pennsylvania energy users to review their energy supply options and educate themselves on the potential benefits of choosing a new energy supplier before these PECO default rate hikes go into effect in early April.