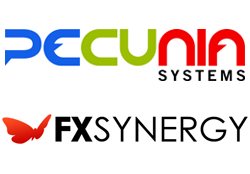 We knew we had a unique and outstanding product on our hands, but we never expected this many traders getting on board so fast
Malaga, Spain (PRWEB) October 04, 2011
Since the launch in August, traders from 85 countries are now using FX Synergy to manage their trades. "We knew we had a unique and outstanding product on our hands, but we never expected this many traders getting on board so fast" said Claus Stokholm, CEO of Pecunia Systems, adding that "the one thing that has really blown us away is the diversity of traders using our software, we are seeing everything from beginners to fund managers using it".
Wanting to expand sales and extend market reach even further,Pecunia Systems announces payment plan for FX Synergy and greatly reduced update subscription. Effective immediately, a license can be purchased in 4 payments of €67 ($89) and the update subscription has been cut in half to just €49 ($65) per year.
FX Synergy, a multi account management system for MetaTrader™ developed by Pecunia Systems, is completely broker independent and works with any broker using the MetaTrader platform. Designed by professional traders, FX Synergy offers functionality that greatly improves trade management, including many features not found in MetaTrader™.
FX Synergy's features include:

1-Click Execution
Multiple Accounts
Group Trades
Stealth Mode
Trailing Stop
Break-Even
Stop Reverse
Scale In
Partial Close
News Alerts
Presets
Support for Dukascopy™ trading platform JForex planned for Q4 release.
Pecunia Systems offers a free 30-day trial of FX Synergy on their website.
More information
FX Synergy – MT4 Trade Manager
Media Contact
Martin Enevoldsen
Chief Software Architect
Pecunia Systems S.L.
Direct +45 224 688 60
martin.enevoldsen(at)pecuniasystems(dot)com
About Pecunia Systems
Pecunia Systems S.L. is a privately held company specializing in software and services for financial trading, with offices in Malaga, Spain and Copenhagen, Denmark. Pecunia Systems flagship product is FX Synergy, an outstanding trade manager for MetaTrader™. More information about Pecunia Systems is available at http://www.pecuniasystems.com
###