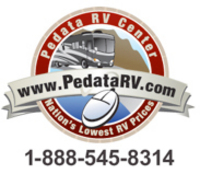 Phoenix, AZ (Vocus) January 23, 2009
During slow economic times retailers and wholesalers alike do more to cater to their customers. When buying consumers are few, the people buying definitely get special treatment. Good deals, fantastic offers, free gifts...you name it. Every industry is attempting to entice the reduced crowd that makes up the "buying public" to come their way.
So what happens to an industry that is still attracting consumers that is unable to provide the necessary funding for the purchase? We can imagine and we can theorize and we can pull examples of similar instances from our own history, but RV dealers and wholesalers currently making it work in the slower economy really don't want to find out.
Dealers and wholesalers in the recreational vehicle industry, including Pedata RV Center, see the combined RVDA and RVIA push for the US Department of Treasury and the Federal Reserve to include RV dealer floor plan and consumer loans in the list of securities they'll purchase as part of TALF (Term Asset-Backed Securities Loan Facility) as the best solution to the current financing problems. The fundamental purpose is to encourage banks to make the necessary loans using traditionally accepted terms as well as to increase the availability of the needed credit.
H.R. 384 was the bill that introduced the provision in January 2009 to allow the US Dept. of Treasury to include RV dealer floor plan loans as well as consumer loans in TALF. The bill addresses the release of the second half of the $700 billion assigned as Troubled Asset Relief Program funds (TARP).
Clint Ethington, General Manager of Pedata RV Center, said, "The proposed inclusion of that $20 million from TARP in TALF would mean a lot to all of us in the RV industry (as well as to the consumers). It would result in the direct purchase of business and consumer loans that are packed into securities. And once banks see the secondary market for the loans they'll be more likely to increase the availability of credit for businesses and consumers. And that's exactly what we need right now."
For More Information:
For more information on Pedata RV Center or current trends in the RV industry contact Clint Ethington, General Manager, at clint (at) pedatarvcenter (dot) com or by phone at: 1-888-545-8314 or 520-807-0900. Or visit Pedata RV Center online at http://www.pedatarv.com.
# # #