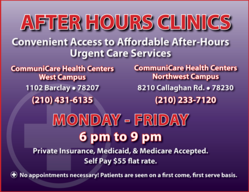 San Antonio, TX (PRWEB) March 19, 2013
CommuniCare Health Centers is proud to now offer After-hours Urgent Care services at the San Antonio West and Northwest Campuses. These services will help patients avoid costly trips to the emergency room for minor ailments. The Urgent Care Clinic hours are offered Monday through Friday from 6 p.m. to 9 p.m. Patients will be seen on a first-come, first-serve basis; therefore, no appointments will be necessary. Private Insurance, Medicare and Medicaid are accepted and all other patients will pay a $55 flat fee for services rendered.
Treatment will be limited to:
Respiratory Conditions such as:

Colds
Flu
Coughs
Sinus Infections
Strep Throat
Bronchitis
Sore Throats
Allergies
Digestive and Urinary such as:

Nausea
Vomiting
Diarrhea
Urinary Tract Infections
Bladder Infections
For more information about the services provided, patients can call the CommuniCare Health Centers West Campus location at 210-431-6135 or the Northwest Campus location at 210-233-7120.
About CommuniCare Health Centers:
CommuniCare Health Centers (CCHC) having served San Antonio for over 40 years now, is a full-service primary healthcare system as a Family Medicine center, Pediatric Center and Pediatric dental center, Women's Health and OB/GYN clinic, Podiatry, Dental and Behavioral Health centers and After Hours Urgent Care to residents in Bexar and Hays counties. In 2012, CCHC delivered more than 150,000 visits at two health centers in San Antonio and two in Hays County. In the fall of 2012, CCHC opened its newest health care facility on the Northwest side of San Antonio. As a non-profit community health center and medical clinic, it serves those with Medicaid, Medicare, Private Insurance and those that do not have insurance, charging on a sliding-fee scale based on annual household income and family size. For more information on CommuniCare Health Centers please visit http://www.communicaresatx.com.