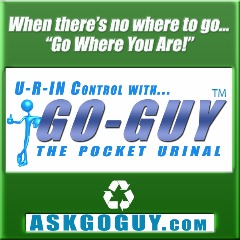 When there is no where to go, go where you are with Go Guy the pocket Urinal.
Pawtucket, Rhode Island (PRWEB) April 25, 2012
U-R-IN Control has found millions of Americans suffer from urinary incontinence (loss of bladder control).
Go Guy has tripled its sales volume in just 2 years causing the company to expand its manufacturing base. It has been estimated that up to 18% of men will experience loss of bladder control during their life and that $10 billion is spent in the United States every year on pads and other incontinence related problems.
Urinary incontinence is a common and distressing problem which does have an impact on a person's quality of life. It is also known that this issue in men is under reported to the medical professionals because of the feeling of shame and humiliation. This does lead to isolation and social withdrawal. Go Guy the pocket urinal(pee bag) helps you lead a normal life full of activities, knowing that if the urgency arises a person can relieve himself at a moment's notice. The Go Guy bag can be carried in a pocket, wallet, and glove compartment. The pee bag is specially designed with 700ml capacity for worry free relief. It has a water tight top seal, space age polymer crystals for quick absorption to eliminate spills and odors, and can be used for emergency bladder relief when a restroom is not around. Go Guy can be purchased on line at AskGoGuy.com and in many retail outlets world wide.