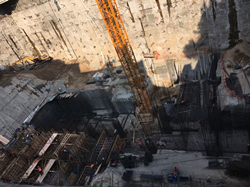 Switching to an integral, crystalline solution for the water tanks helped keep the Popocatepetl project on time and on budget.
EAST SETAUKET, N.Y. (PRWEB) March 18, 2019
Inaugurated in early 2019, the Popocatepetl 526 residential & commercial complex highlights the benefits of Penetron technology in the high water table environment prevalent in Mexico City. Penetron Admix, a non-toxic admixture, keeps the drinking water tanks safe from any leakage or possible pollution from outside sources.
A well-known developer and general contractor specializing in residential developments, Quiero Casa has designed and built over two dozen residential projects in and around Mexico City. The company's newest project, the Popocatepetl 526 mixed use (housing & commercial) complex is notable for its three five story towers: an apartment tower, an office tower and a shopping mall in the third tower, surrounded by landscaped green spaces.
Salomon Shabot, an engineer and the project's construction manager (as well as the owner of Quiero Casa), previously used a combination of exterior coatings and membranes to protect the below-grade concrete structures and water tanks. However, the maintenance costs – and time – required to maintain this type of waterproof solution led to a search for a better idea. About three years ago, he reached out to Penetron Mexico to learn more about the advantages of the crystalline Penetron System for the potable water tanks and the water treatment plants that are part of the Quiero Casa residential projects.
Challenging Local Geology
"Quiero Casa was one of the first clients to ask us about a waterproofing solution for a residential application," explains Alejandro Mucino, the Managing Director of Penetron Mexico. "The company is an important residential developer in Mexico City, and we're now working on several projects with them. Some of these projects include tall buildings, which are particularly challenging due to the phreatic conditions of the soil geology in Mexico City."
The sensitivity and importance of clean drinking water structures require a completely non-toxic – and permanent – solution. Penetron's crystalline materials are NSF-61-certified (for potable water applications), completely non-toxic and they contain no VOCs. They have been used successfully in potable drinking water systems around the world – from the USA to Saudi Arabia.
The water cistern that supplies all the drinking water for the Popocatepetl 526 apartment inhabitants, the office tower, and the mall has a 60,000-liter (15,900 gallon) capacity. The water treatment plant features a treatment capacity of 60,000 liters (15,900 gallons). Because these below-grade concrete tanks are located under the parking garage, having an absolutely watertight solution was a priority to ensure faultless water quality.
Saving Time, Staying on Budget
Cemex Concretos supplied the concrete mix directly to the construction site, where Penetron Admix was added to the mix on-site in a quick and straightforward process by the Quiero Casa engineer.
Over 2,000 m3 (2,650 cubic yards) of concrete used for the water tank and water treatment facility were treated with PENETRON ADMIX. Additional concrete was treated with Penetron Admix and used in the green spaces and decorative water fountains surrounding the Popocatepetl towers, which cover the parking garage.
"Switching to an integral, crystalline solution for the water tanks helped keep the Popocatepetl project on time and on budget," adds Alejandro Mucino.
The Penetron Group is a leading manufacturer of specialty construction products for concrete waterproofing, concrete repairs and floor preparation systems. The Group operates through a global network, offering support to the design and construction community through its regional offices, representatives and distribution channels.
For more information on Penetron waterproofing solutions, please visit penetron(dot)com or Facebook(dot)com/ThePenetronGroup, email CRDept(at)penetron(dot)com, or contact the Corporate Relations Department at 631-941-9700.