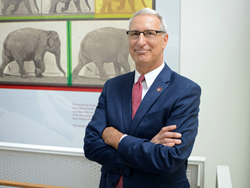 I wanted to develop an executive program with the Wharton School that would give veterinarians the tools to drive improvements in public health, environmental sustainability, and more importantly, human and animal well-being.
PHILADELPHIA (PRWEB) May 15, 2019
Entrepreneurship, innovation and new business ventures – championed by schools of business and engineering across the country for the past two decades – have a new advocate. Veterinary schools. Yes, veterinary schools. And a new educational program is further evidence of the veterinary profession's rising influence in a world characterized by globalization, population growth and rapid technological change.
The School of Veterinary Medicine at the University of Pennsylvania (Penn Vet) has just announced the latest addition to their growing continuing education portfolio. Taking place on June 3rd through June 6th at the Aresty Institute of Executive Education at the Wharton School, Leading Veterinary Entrepreneurs is an executive program for veterinary clinicians, scientists, technologists, academic leaders, and innovators, looking to explore the underpinnings of effective entrepreneurship.
"As the world becomes more complex, so too does the role of veterinarians. They are uniquely positioned to ask questions with implications for animal, human and environmental health," says Andrew Hoffman, Gilbert S. Kahn Dean of Veterinary Medicine. "And an entrepreneurial mindset is really critical, really central, to tackling challenges such as food and water security, sustainable farming, climate change, and the advancement of animal welfare."
Veterinarians will continue to provide health care to animals. That need will never go away. But the knowledge and expertise of the veterinarian is increasingly relevant to numerous sectors – human health, social services, environmental science, and social justice for example – driven by a need to view complex societal issues through a wider lens emblematic of the One Health ethos. Even in the more traditional sense, industry disruptors are developing and delivering new models of veterinary care and human-animal interactions. The business models of corporate practices, coupled with consumer preference, are driving change and opportunity within the profession. And a younger generation of veterinarians, tech-fluent and socially responsible, are taking notice.
"I'm hearing a collective recognition from students, alumni, and my own colleagues, regarding the role veterinarians can play in the health of communities, both local and global," says Hoffman, who also serves as the program's academic director. "I wanted to develop an executive program with the Wharton School that would give veterinarians the tools to drive improvements in public health, environmental sustainability, and more importantly, human and animal well-being. The veterinary profession has a long-standing history of entrepreneurship through private practice ownership. I want to take that same spirit, that curiosity, the ideas, and translate it to a much larger scale, through both social and commercial entrepreneurship".
Leading Veterinary Entrepreneurship combines the expertise of Penn Vet and the Wharton School to provide a dynamic educational experience in leading innovation in commercial and societal contexts. Led by James Thompson, PhD, co-author of "The Social Entrepreneur's Playbook" and adjunct associate professor in Wharton's Management Department, participants will understand the importance of opportunity identification, testing, assessment, resource allocation, as well as the leadership competencies required to foster a culture of entrepreneurship. Other Wharton professors teaching in the program include Lawton R. Burns and Mauro Guillén. Entrepreneur Alan Cook, founder and chief executive officer of pet products company Brilliant Pet, will be participating in a panel discussion addressing veterinary trends and opportunity identification.
"We have an awesome responsibility in tackling some of the world's most challenging issues," adds Hoffman. "This program offers an unprecedented opportunity to bring together a diverse group from the front lines of veterinary science and public health to create truly viable, and sustainable solutions."
To learn more about the Leading Veterinary Entrepreneurship program, go to https://Execed.wharton.upenn.edu/for-individuals/all-programs/leading-veterinary-entrepreneurship/.
About Penn Vet
Ranked among the top ten veterinary schools worldwide, the University of Pennsylvania School of Veterinary Medicine (Penn Vet) is a global leader in veterinary education, research, and clinical care. Founded in 1884, Penn Vet is the first veterinary school developed in association with a medical school. The school is a proud member of the One Health initiative, linking human, animal, and environmental health.
Penn Vet serves a diverse population of animals at its two campuses, which include extensive diagnostic and research laboratories. Ryan Hospital in Philadelphia provides care for dogs, cats, and other domestic/companion animals, handling nearly 35,300 patient visits a year. New Bolton Center, Penn Vet's large-animal hospital on nearly 700 acres in rural Kennett Square, PA, cares for horses and livestock/farm animals. The hospital handles nearly 5,300 patient visits a year, while the Field Service treats more than 38,000 patients at local farms. In addition, New Bolton Center's campus includes a swine center, working dairy, and poultry unit that provide valuable research for the agriculture industry. For more information, visit http://www.vet.upenn.edu.
About the Wharton School
Founded in 1881 as the world's first collegiate business school, the Wharton School of the University of Pennsylvania is shaping the future of business by incubating ideas, driving insights, and creating leaders who change the world. With a faculty of more than 235 renowned professors, Wharton has 5,000 undergraduate, MBA, executive MBA, and doctoral students. Each year 18,000 professionals from around the world advance their careers through Wharton Executive Education's individual, company-customized, and online programs. More than 98,000 Wharton alumni form a powerful global network of leaders who transform business every day. For more information, visit http://www.wharton.upenn.edu.