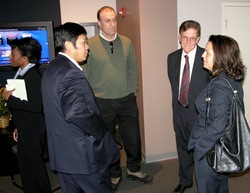 We are always more than willing to work with representatives from the Obama administration such as Mr. Hinson when it comes to renewable energy, energy efficiency, and minority business development. - CEO Bill Wang of ARE Sun Solar
Philadelphia, PA (PRWEB) January 31, 2011
ARE Sun Solar CEO Bill Wang and COO Anthony Uva today were on hand to contribute their vision on the future of energy efficient buildings at the first Greater Philadelphia Innovation Cluster (GPIC) forum of 2011. They also provided David Hinson, national director of the Minority Business Development Agency (MBDA) with their thoughts on how best to craft the Obama Administration's policy on minority-owned businesses, as the company is one of the only such businesses in the solar industry operating in New Jersey, New York, and Pennsylvania.
As a minority-owned renewable energy company, the representatives from ARE Sun Solar had many suggestions for the participants of the forum on energy efficieny buildings and minority business development. As Jim Gambino, vice president of Ben Franklin Technology Partners of Southeastern Pennsylvania, ARE Sun Solar participated in a lively discussion with Hinson and economic development officials on hand regarding how best to move America forward in its endeavor to increase the number of large, minority-led businesses powering the country's economic revitalization.
Hinson concurred that the GPIC is well-positioned for people who are underrepresented in the economy, and that minority business owned can do a great deal to stimulate private investment and job creation in the industry--positions Wang and Uva have long held as the chief representatives of a minority-owned solar company. Hinson stated during the discussion that the Obama administration has "a very serious sense of urgency" about the role such businesses can play in bolstering the US economy. "Any ideas that you have – any ideas at all – we'd love to hear them."
About ARE Sun Solar
American Renewable Energy (ARE) is a full-service photovoltaic (PV) systems integrator, designer, and installer covering the Northeast United States, with offices located in New Jersey, New York, and Pennsylvania. The company is an approved dealer for solar components from the world's leading global manufacturers and services residential, commercial, and nonprofit customers.
Press contact information:
ARE Sun Solar
Anthony Uva, Chief Operating Officer
255 Old New Brunswick Rd, Suite N280
Piscataway, NJ 08854
Phone: (888) 902-2295
Fax: (732) 543-7330
Email: solar(at)aresunsolar(dot)com
Web: http://www.aresunsolar.com
More information:
Pennsylvania solar
NJ solar
Solar New York
# # #