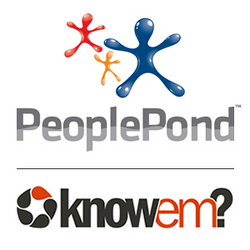 Ferndale, Wash. and Morristown, New Jersey (PRWEB) January 12, 2010
One of the most effective ways to be visible to prospective customers, investors, trade partners and employers is to build a strong professional personal brand. Along with this comes the need to protect a personal brand from lookalikes and spoofing.
The combined services of PeoplePond and KnowEm enable personal brands and personal brand managers to use advanced tools to build and make their brands visible while at the same time proactively minimizing opportunities for market confusion and brand theft.
The PeoplePond online marketing service provides an advanced online profile that works as a professional landing page while also training search engines to promote the many online locations associated with the profile author's personal brand. Additionally, personal identity verification and proving ownership over social media and social networking accounts is available. Company and product brands use profiles built at CompanyPond to accomplish the same increased visibility and search engine optimization.
The KnowEm reputation management service enables easily identifying where a brand has or has not been established across hundreds of social media, social networking and other online services. This information is used to ferret out spoofing and KnowEm can proactively secure the brand at each possible opportunity. Ongoing monitoring services are also available.
About PeoplePond
PeoplePond (http://www.peoplepond.com) and CompanyPond (http://www.companypond.com) are part of the Cranberry Venture Partners, LLC network of Web sites. Cranberry is home to an unmatched team of innovative developers led by Internet visionary David McInnis. McInnis is best known for founding the first direct-to-consumer news service, PRWeb, which changed the way the world uses press releases. For more information about PeoplePond, LLC and the Cranberry Venture Partners, LLC network of Web sites visit http://www.cranberryventurepartners.com.
About KnowEm
KnowEm (http://www.knowem.com) monitors hundreds of popular websites for social media identity theft. By entering a username, which can be a brand name, Internet identity, or vanity URL. KnowEm instantly monitors the availability of that username on over 300 popular social media websites such as Twitter, MySpace and Digg. KnowEm's premium service will also help secure a username on up to 300 popular social media sites. KnowEm has helped reserve over 250,000 usernames for individuals, business & the fortune 500.
###