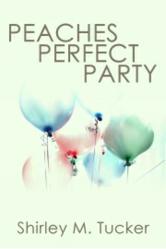 (PRWEB) November 26, 2012
Black Friday and Cyber Monday are great times to shop but according to award winning author Shirley Tucker, it is sometimes possible to forget why we are doing the shopping in the first place. As Americans gear up for a season of festivities and partying, Mrs. Tucker has released a free short story about a perfect birthday party: Peaches Perfect Party.
The story begins with this touching paragraph:
"Kevin Custard was a man of many words and especially when they came in the form of a movie script. He was a two-time Oscar winner and four-time Emmy nominee. He'd appeared in twenty major films and a long line of TV shorts. He'd had four wives and the one he was with now, was a "fill-in" until he found the next Mrs. Right. Out of Kevin Custard's six children, his youngest, Peaches, melted his heart."
A man of means such as Kevin Custard can surely throw a party. It eventually involved renting an ice rink, hiring a boys band, and commemorating the event by giving out ice skates to those who came to the party. Everyone agreed: it was the best birthday party ever. So you can imagine the surprise Kevin had when he asked his daughter whether or not she enjoyed herself.
The story, which is available for free on the website for her book, "Diamonds in the Dust", is also available as a free ebook on Smashwords, BarnesandNoble.com, and other online retailers.
Since the story is absolutely free, readers are invited to distribute it wherever they like, provided they leave attribution to Mrs. Tucker in it.
To read the short story and learn more about Mrs. Tucker and her book visit her website at http://diamondsinthedust.net.