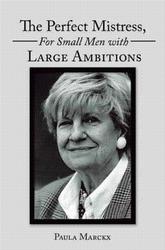 What I would like to illustrate is that we are heading for a more tolerant world
Antwerp, Belgium (Vocus) November 17, 2010
Long before the extramarital affairs of Tiger Woods and Jesse James were making front-page news, 85-year-old Paula Marckx was living the exciting life of a mistress to men in the upper strata of society. She shares her incredible stories in her refreshingly candid new memoir, The Perfect Mistress, For Small Men with Large Ambitions (published by AuthorHouse).
"What I would like to illustrate is that we are heading for a more tolerant world," Marckx writes, and in sharing the details of her life, she sheds an unprecedented light on the perspective of "the other woman" so often demonized in popular culture. After working as a model – both nude and clothed – to support herself in Belgium during World War II, Marckx embarked on a career as a journalist, travelling the world and meeting powerful figures. She recalls gravitating towards the life of a mistress "without even noticing it" and enjoyed no shortage of suitors, all married, all of whom she loved.
As the years passed, Marckx never had a man willingly leave her – they all passed away, and she was surprised to find that she was able to cultivate relationships with the widows they left behind. "I believe this happened because I was more considered as an alley than a risk," she writes. "They realized that I would never take their husband away from them."
Fiercely independent and ahead of her time, Marckx gave birth to a daughter, Alexandra, when she was in her late 40s and was determined to raise the child on her own. The State of Belgium refused to grant Alexandra any legal rights due to Marckx's unwed status, prompting her to file a lawsuit alleging discrimination. She won the now-famous Marckx Case and went on to enjoy a successful business career.
The main characters in Marckx's rich life have been the men she writes about. "They fashioned me into the woman I am today," she says. Find out how in The Perfect Mistress, For Small Men with Large Ambitions.
About the author
Paula Marckx was born in 1925 in Antwerp, Belgium. Raised in a modest family during World War II, Marckx left school at the age of 14. A world adventurer at heart, Marckx has never married and has one daughter, Alexandra. Marckx is also the author of La Route Sinueuse. For more information on Paula Marckx, please visit http://www.myselfandme.net.
AuthorHouse is the leading provider of self- publishing, marketing, and bookselling services for authors around the globe. For more information, visit http://www.authorhouse.com.
###