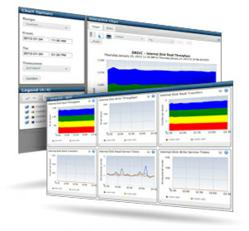 Galileo provides new visibility into Virtual I/O Servers (VIOS) operating in fibre-channel networks.
Malvern, PA (PRWEB) March 05, 2013
Galileo Performance Explorer™, a cloud-based performance monitoring tool for server and storage systems, created by the ATS Group, has expanded its range of capabilities to provide greater insights for high-traffic storage installations.
The latest release provides IT managers with insights for more efficient use of their N_Port ID Virtualization (NPIV) technology. It also gives users of SVC and V7000 storage systems the ability to chart and monitor activity on the internal drives of those systems that act as intermediaries between servers and backend storage systems.
"With the added NPIV charting capabilities, Galileo provides new visibility into Virtual I/O Servers (VIOS) operating in fibre-channel networks," says Tim Conley, co-founder and principal partner for the ATS Group. "Having the ability to chart physical adapter statics as well as aggregate server statistics, gives users a better understanding of their I/O virtualization performance and helps them manage system resources more efficiently." The same charting functionality also supports Multiple Shared Processor Pools (MSPP), Shared Ethernet Adaptors (SEA), and tape systems.
As a cloud-based service, Galileo provides universal access to IT server and storage analysis from any browser window. That accessibility makes it easy for prospective users to explore the new NPIV, SVC, and V7000 system monitoring capabilities—or any of Galileo's 190 charts and 236 metrics—under ATS' FREE 30-Day Trial program.
About Galileo Performance Explorer
Created and supported by ATS Group, Galileo Performance Explorer™ improves IT utilization and capacity planning with convenient cloud-based performance monitoring. Galileo delivers hundreds of analytical perspectives on server and storage hardware and virtualization environments for key decision makers. These deeper insights go far beyond reactive alarms to support optimal performance of physical and virtual servers and storage, supporting IBM® AIX®, Linux®, Windows®, and IBM® SVC and Storwize® V7000 storage. Built on an innovative SaaS architecture, Galileo installs in minutes without onsite data or expensive hardware requirements. Automatic collection of real-time data and quick, easy, graphical reporting via an intuitive web interface offers access to custom dashboards with full drill down into data details, anywhere, anytime. Galileo empowers users from IT administrators to C-level management at mid-size to Fortune 100 companies including leaders in security-sensitive industries.
For a free 30-day trial using your own data, visit http://www.GalileoSuite.com.