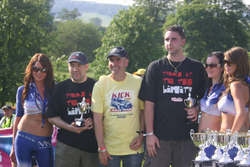 a panoply of post war rallying
Grays, Essex (PRWEB) July 10, 2008
The 50th Anniversary of the BRC held in the grounds of Chatsworth House brought together rally professionals from the past and the present, described by Octane Magazine as "a panoply of post war rallying", by Derbyshire Telegraph as "a rally fest" and by The Daily Telegraph as "a spectacular array of classic and modern rally cars" and "reminiscent of the early years of the Goodwood festival of speed"
We describe it simply as it was: "The History of British Rallying." On view and rallying were cars from the sixties onwards. This was a spectacle that any admirer of rallying would have enjoyed.
The BRC made efforts to involve rally stars from the past as well as the current leaders in BRC classes. Even world rally leaders were present and participated in the short event. BRC contenders were also there in to contest four rallies over Chatsworth Park stages. The vortex sponsored diesel car fitted with the Vortex Raceflo resonator stainless steel exhaust system was the Exhaust Winning Formula. Pictured below collecting their award for 1st in the diesel category is Fin McCaul, driver, with Matthew House, Vortex Sales Manager.
Apart from the class win another 1st to come from the meeting was the acceptance of the Vortex resonator in place of a diesel particulate filter (DPF). FIA & MSA Technical Delegate Rab McDonald who was involved in testing the emissions of the vortex sponsored vehicle before the meeting deliberated over its acceptance as a replacement of the filter during the meeting. On Sunday 8th June the vortex resonator, which reduces diesel particulates radically, was accepted as an emissions controlling instrument. So henceforth in the BRC diesel entrants will be able to have either a DPF type filter or a Vortex resonator fitted to their rally cars to reduce particulates. The advantage the Vortex has over a filtration type system is the increase in gas flow it allows and the benefits that come from that in power and torque. There is also big benefit to the environment from the reduction in diesel consumption and major drop in diesel particulate emissions.
Driver Fin McCaul stated "this is a big step in the right direction. I am now looking forward to having the car tuned to the new stainless steel exhaust system." Vortex ExhaustsTM: the only stainless steel performance exhaust that can unlock power lost to backpressure. it works for cars, 4x4s, light commercial vehicles, trucks, buses, marine vessels, ... using Vortex Stainless Steel Performance Exhausts
###