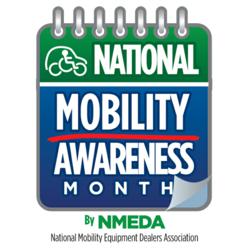 Denver, CO (PRWEB) March 15, 2013
Performance Mobility, a premier company that sells wheelchair accessible vehicles, wheelchair lifts, hand controls and other adaptive equipment for the physically disabled, is proud to announce its participation in the second annual National Mobility Awareness Month and the corresponding contest sponsored by National Mobility Equipment Dealers Association.
National Mobility Awareness Month, which begins May 1st, is dedicated to promoting awareness for the 18 million North Americans who suffer from restrictive mobility issues and also in aiding individuals in understanding their options in mobility equipment and wheelchair accessible vans.
In celebration of National Mobility Awareness Month, NMEDA sponsors a contest designed to promote the stories of the physically disabled. The winning entries are awarded new 2013 handicap accessible vehicles from some of the top automotive companies such as Honda, Toyota and Chrysler. All of the vehicles come fully equipped with mobility equipment and conversions from NMEDA members including Vantage Mobility International (VMI), BraunAbility and Bruno Independent Living Aids.
To enter the contest, individuals may submit either written or videotaped stories capturing their own or a peer's experience or struggle with limited mobility. Friends, families and communities can vote for their favorite heroes beginning in March 11.
Stories can be submitted in two different ways. Submitters can compose a written entry of no more than 400 words or submit a YouTube video no longer than two minutes. Customers of Performance Mobility can also contact the dealer for a code redeemable for ten votes, adding extra chances to win.
Submission of stories began on February 25, 2013 and runs through May 10, 2013. Voting for stories begins March 11, 2013, and will run through May 10, 2013. Individuals can vote for their favorite stories once every 24 hours, but the Performance Mobility dealer code can only be used once per voter.
For more details about the contest or National Mobility Awareness Month, visit NMEDA here, or visit Performance Mobility at http://www.PerformanceMobility.com/.
About Performance Mobility: Performance Mobility provides sales, service and rental of wheelchair accessible vans, scooter and wheelchair lifts, hand controls and other adaptive driving equipment. Performance Mobility is committed to serving the community with exceptional customer service and the highest quality, safest products available for transporting individuals with limited mobility. Performance Mobility serves Colorado, Wyoming, Oregon and Washington states from locations in Denver, Colorado, Colorado Springs, Colorado and Portland and Eugene, Oregon.