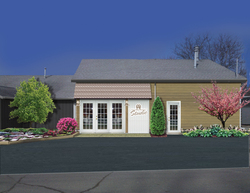 In our new facility, we're able to show visitors our production process in a way never before possible.
Ligonier, IN (PRWEB) December 13, 2010
In 1980, Annie Oakley Perfumery was a modest business based in owner Renee Gabet's Ligonier, Indiana kitchen. By 2009, it had grown to a 9,000 square-foot facility and has sold more than 2 million bottles of handcrafted Annie Oakley natural perfume. Now, the nation's only perfumery has expanded by an additional 1,700 feet to take on a new frontier: tourism.
"Ligonier and Nobles County, Indiana might not seem like typical tourist destinations," Gabet said. "But that's exactly the point. With the area's unique Amish settlements and the only perfume studio and factory in the United States, we're anything but typical. We are one of the most unique, authentic places to visit in the country."
Gabet has taken the same approach to the perfumery's expansion as she has to her product lines over the years. "Pure, quality, all-natural ingredients have always been our standard," she said. "Our customers trust us to be honest and authentic. In our new facility, we're able to show visitors our production process in a way never before possible."
In addition to viewing products being made on their factory tours, visitors to the Indiana facility will be able to work with a perfumer to develop their own personal fragrance. "Since most perfumes in the United States are actually made with artificial chemicals, the opportunity to craft a fragrance from all-natural ingredients is really one-of-a-kind," Gabet said.
The new perfume studio also features a new gallery highlighting the story of the historic Annie Oakley, who was born in western Ohio and had become one of the most famous women in the world by the late 1800s. "Her strong character and individualism are guiding hallmarks for Annie Oakley products," Gabet explained. "It's important for her history to be preserved and shared."
A perfume and beauty bar, gift shop and coffee bar complete the studio's expanded space. Gabet says she hopes that visitors will feel welcome to relax and explore the variety of unique Annie Oakley products, from western gifts for men to delicate lavender fragrance and honeysuckle perfume.
"Even though our products are sold at over 1,000 retailers nationally and abroad, we are always looking ahead to develop more original concepts," Gabet said. "Most recently, we've created a line of natural horse calming supplements that's been taking off. We also introduced two new brands: Wild West Cologne and our SPA Beauty collection of personal care products. "
The new facility is specially designed to show visitors the range of unconventional possibilities available with all-natural ingredients. A formal ribbon cutting ceremony is planned for Spring 2011. The perfume studio is presently taking reservations for large group and bus tours, which will begin in the Spring also. "We're honored and proud to bring an authentic American experience to our visitors," Gabet said. "We're showcasing not just our products, but the spirit of the real-life Annie Oakley."
# # #