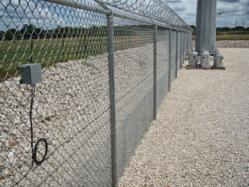 The end user has been very pleased with the performance of the systems from Smarter Security, and MidCo, Inc. found the company to be very helpful and easy to work with.
Austin, TX (PRWEB) March 20, 2013
Smarter Security, Inc., provider of premium, innovative entrance control and outdoor security solutions, today announced that an independent power producer recently installed SmarterFence and SmarterBeam to assist with perimeter security at a newly-constructed solar farm. The Midwest facility has a nearly 10,000-foot perimeter and the owner invested proactively to secure its investment and operations from intruders so the site could routinely be unmanned.
"We considered alternative technologies, but SmarterFence was the most cost-effective solution for this particular application that would meet the customer's needs and offer complete perimeter detection," said Kelly Sullivan, Account Executive for MidCo Inc., the security systems integrator on the project. "The end user has been very pleased with the performance of the systems from Smarter Security, and MidCo, Inc. found the company to be very helpful and easy to work with throughout the purchase and installation process."
SmarterFence fiber optic sensor cable was installed along the fence line and connected to six dual-zone SmarterFence processors to establish twelve security zones on the perimeter. SmarterBeam CLR500 was installed to protect the sliding gate that provides vehicle access to the facility. MidCo, Inc. also installed two long-range PTZ cameras, which respond to an alarm from SmarterFence or SmarterBeam by panning to that particular zone and zooming in to give remote operators a view of what caused the alarm. Verified threats are handled by local law enforcement. This security allows the solar farm in a remote part of the Midwest state to operate with no one on site.
"Renewable energy is an important part of our country's future and national security, and we are pleased to work with MidCo, Inc. and this power producer to secure its solar generation facility," said Jeff Brown, CEO of Smarter Security. "SmarterFence is an ideal solution for upgrading the security of this customer's fence to assist in eliminating costly disruptions in its ability to deliver on its power agreements. Both Smarter Security solutions easily integrate with other security technologies to provide actionable intelligence which enables rapid and proper responses to threats."
SmarterFence from Smarter Security is a fence-mounted fiber optic intrusion detection system that intelligently alarms any attempt to cut, climb, or lift a perimeter fence. It is well-suited for power and utility applications as it is not affected by lightning or other electromagnetic interference. SmarterBeam CLR500 is a passive infrared motion detector designed for harsh outdoor environments and detects intrusions in a range of up to 500 feet. Two other models of SmarterBeam offer similar protection for different coverage areas.
About Smarter Security, Inc.
Smarter Security provides premium and innovative entrance control and outdoor security solutions to help organizations protect their people and assets in a world of ever-present threats. Since 1992, Smarter Security has offered Fastlane turnstiles, the most elegant and intelligent optical turnstiles available, which protect thousands of commercial and governmental lobbies on six continents. Smarter Security also offers perimeter intrusion detection systems, including SmarterFence, a fiber optic fence-mounted sensor. For more information, please visit http://www.smartersecurity.com.
Fastlane is a registered trademark of Integrated Design Limited.
# # #