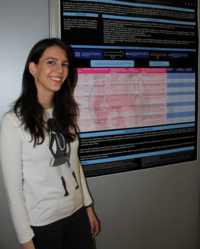 Dr. Vidal once again sets the bar high with her award winning ways in demonstrating the use and positive implications using Periowave's photodisinfection technology. ~Carolyn Cross, Ondine CEO
Vancouver, British Columbia (PRWEB) June 06, 2013
Ondine Biomedical Inc. congratulates Dr. Marta Segarra Vidal for her recent Oral Communications of Research award at the SEPA conference (Spanish Society of Periodentists). This recognition relates to Dr. Vidal's work with photodisinfection and Periowave at the University of Valencia, where this technology has been deployed for the past few years. This is the second award for Dr. Vidal relating to use of Periowave and Marta recently presented her this latest oral presentation to the SEPA Spanish society of Periodontology Annual Conference on May 23rd-25th in Granada, Spain.
The winning poster prize was entitled "A systematic review of photodynamic therapy in the treatment of chronic periodontitis" and featured her current research using Periowave photodisinfection technology. Along with Dr. Segarra, the poster prize winner was signed by the Doctors Andrés López Roldán, Juan Puchades, Francisco Gil, Rocio and
Francisco Marco Alpiste and is scheduled to be published as an article in Maxillaris; a journal for dentists in Spain and Portugal.
"Dr. Vidal once again sets the bar high with her award winning ways in demonstrating the use and positive implications using Periowave's photodisinfection technology. We are proud to share Dr. Vidal's success and the global commitment we are seeing in the adoption of photodisinfection as a viable technology," shares Carolyn Cross, CEO and Founder Ondine Biomedical
The goal of this study was to determine if patients with chronic periodontitis undergoing scaling and root planning (SRP) plus photodynamic therapy; in comparison with SRP alone, resulted in improved clinical, microbiological and biochemical outcomes. Periowave Dental Technologies, a subsidiary of Ondine Biomedical, develops and commercializes antimicrobial photodynamic therapies for the treatment of a broad spectrum of bacterial, fungal and viral infections in the oral cavity without encouraging the formation and spread of antibiotic resistance.
Periowave Dental Technologies, Inc., is based in Toronto, Ontario, Canada. For additional information and to learn more about Periowave and photodisinfection technology, please contact info(at)periowave(dot)com or visit the Company's website at: periowave.com or our blog http://www.periowaveblog.com
Ondine, an incubator, developing non-antibiotic therapies based on photodisinfection technology for the treatment of a broad spectrum of bacterial, fungal and viral infections. The Company is focused on developing leading edge products utilizing its patented light-activated technology. photodisinfection provides broad-spectrum antimicrobial efficacy without encouraging the formation and spread of antibiotic resistance. The Company is based in Vancouver, British Columbia, Canada, with USA Research and Development laboratories in Bothell, Washington. Please visit the Company website at: ondinebio.com and Blog at: http://www.ondineblog.com. For further information please contact us at: Ondine Biomedical: info(at)ondinebio(dot)com