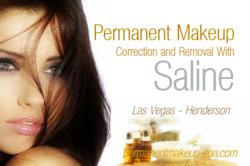 Permanent makeup removal and correction can be achieved.
Las Vegas NV (PRWEB) July 29, 2012
Las Vegas based medical aesthetician says "Permanent makeup removal and correction can be achieved and better than ever before". Theresa Garcia, medical aesthetician and permanent cosmetic professional, states that even though it is technically cosmetic tattoo and deemed permanent, there are corrective options. Older corrective options like the Laser removal method are still used but it has limitations and not all patients are good candidates. Theresa is extremely excited about one specific removal method, "There are many technicians implanting skin color as a form of correction but this should be avoided if possible. Skin color cover ups that are commonly called camouflage, can just make the issue worse and more unattractive. It is the newly perfected saline technique that is highly effective and will become a real asset to the permanent makeup professional."
The new saline technique for removal and correction of a cosmetic tattoo is an osmosis and equalization process that is similar to "Salabrasion". A primative Salabrasion method has been used by medical professionals for many years. The improved saline technique is a proven, scientific approach that is relatively simple, in which a highly concentrated salt solution is introduced into the unwanted pigmented area. The saline technique that is now being perfected is implanted like the original tattoo with actual tattoo needles. Some of the pigment will come to the surface, scab and the area will be lightened or removed. The skin will be slightly pink while healing and a new epidermis is generated.
It is expected that soon permanent makeup technicians and physicians will favor new and improved saline techniques over Laser tattoo removal. In some instances, due to the client's skin type or medical history, he or she may not even be a candidate for Laser. Many times a thick eyeliner or eyeliner wings are no longer desired but most Laser technicians will not attempt removal around the eye area due to the risk of permanent eye injury. Saline is so precise and if salt water gets into the eye, there is no risk of serious eye injury. The saline technique can be used on any color of pigment and there is no risk of the unwanted pigment turning black as there is with Laser. It is the opinion of Theresa that "There is less chance of permanent scaring with the saline technique and that it is more gentle than Laser." Theresa has preformed over 1200 corrective procedures using the saline technique and has not seen any long term damage or raised scaring as she has with Laser.
The use of a skin color pigment to mask or camouflage unwanted permanent makeup is a risky correction option and should be approached with caution. A small amount of skin color in small areas may be advisable in specific situations but it should not be used to "cover up" entire eyebrows or used around the lips. This skin color pigment usually contains titanium dioxides that can turn yellow or look unnatural. The use of pigments containing titanium dioxide that are found in all white or skin color pigments, should only to be used in moderation, diluted and in very small areas. Theresa cautions, "A small test area can be implanted and healed for several weeks to determine if it is going to provide favorable results or not."
The favorable results and low risk factor of saline technique for permanent makeup has made this one of Theresa's most popular services. More than half of her practice is correction and removal services of existing permanent makeup at Axiom Wellness And Medical Spa.