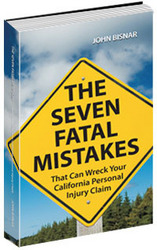 Mr. Schone, as an employee of LAUSD, negligently, carelessly and recklessly failed to exercise due care in the performance of his duties to protect and provide safety for his students
Los Angeles, CA (Vocus) August 2, 2010
The California personal injury attorneys of BISNAR | CHASE (http://www.BestAttorney.com) have filed a lawsuit against Los Angeles Unified School District for severe personal injuries and negligence. According to the lawsuit, 13-year-old Anwar Stetson amputated two of his fingers in a woodworking class at the Paul Revere Charter Middle School in Los Angeles in January 2008. The suit alleges Anwar was using a power tool at the time of the incident without adequate instruction or supervision by his shop teacher, thus resulting in the severe personal injury, disfigurement and permanent disabilities he sustained. The lawsuit was brought against the defendants by Anwar's court appointed guardian, Jeff Stetson. The case is set to begin on August 3, 2010, in the Los Angeles County Superior Court in Santa Monica, case # SC103258.
Los Angeles Middle School Student Sustains Severe Personal Injuries
According to the lawsuit, 13-year-old Anwar Stetson was operating a jointer in a woodworking class at the Paul Revere Charter Middle School in Los Angeles on January 30, 2008. While operating the jointer -- a power tool equipped with a rotating cutter that straightens the edge of a board -- Anwar amputated portions of two fingers on his left hand. As a result of his injuries, Anwar sustained severe mental, physical and emotional pain and suffering, disfigurement, permanent disability and physical impairment.
Alleged Negligence of Los Angeles Teacher Causes Injuries
The suit alleges that Mr. Schone, acting as an employee of Los Angeles Unified School District, neglected his duties to properly and completely instruct, train, monitor and supervise his students' use of power tools, including Anwar's use of the jointer.
The complaint goes on to say that middle school students, such as Anwar, can't be expected to fully understand the dangers associated with operating equipment of this nature nor exercise sufficient caution during that operation, due to their young age -- especially when they lack supervision by a trained teacher. In deposition testimony, a witness alleges at the time of Anwar's injury, the shop teacher, Mr. Schone, was in his office selling candy to another student to raise money for his daughter's college fund.
"Mr. Schone, as an employee of LAUSD, negligently, carelessly and recklessly failed to exercise due care in the performance of his duties to protect and provide safety for his students," said Brian Chase, a senior partner at BISNAR | CHASE. "As a direct result of this negligence, Anwar sustained severe and permanently disabling injuries that will forever alter his life."
Settlement Negotiations with Los Angeles Unified School District Fail
A court ordered settlement conference earlier this month failed to settle Anwar's entire claim, including past and future medical expenses. A Certified Prosthetist Orthotist said Anwar's injuries require that he wear a prosthetic device -- one that must be replaced each year until he's 18. After the age of 18, Anwar will require a new prosthetic device every other year due to wear and tear and growth and weight changes. The estimated expenses of the prosthetic devices are approximately $200,000.
These ongoing medical requirements and related expenses, coupled with the trauma Anwar experienced during and following the incident, and the lifelong physical impairment he will have to endure as a result, were the primary reasons his lawyers rejected the school district's initial settlement offer.
The action seeks economic damages for Anwar's severe bodily injuries, as well as past and future hospital, medical and other related health care expenses and loss of future earning capacity.
About BISNAR | CHASE
BISNAR | CHASE Los Angeles personal injury lawyers represent people who have been very seriously injured or lost a family member due to an accident, defective product or negligence throughout California. The law firm has won a wide variety of challenging cases against governmental agencies, including school districts, CAL-TRANS, cities, the State of California and the U.S. federal government. For more information, visit http://www.CaliforniaInjuryBlog.com. Get a complimentary copy of The Seven Fatal Mistakes That Can Wreck Your California Personal Injury Claim.
# # #