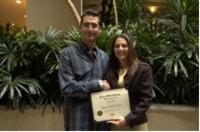 I'm thrilled to be included in this elite group of lawyers. I love helping people, being their trusted advisor, and helping them make the best financial decisions for their family for a lifetime. It has been my life's ambition to be this type of lawyer and not just prepare form documents, but develop a real personal relationship with my clients. I'm very fortunate and honored
Encino, CA (PRWEB) March 24, 2008
Encino-based attorney Gerald L. Kane was honored with the coveted "Personal Family Lawyer" (PFL) designation in a ceremony held last week in San Francisco, CA. The PFL designation is awarded to estate planning lawyers who have demonstrated an unwavering commitment to their communities by providing sound legal advice that helps individuals and families make the best decisions in their personal, business, legal and financial affairs throughout their lifetime.
Members of the PFL network focus on the needs of growing families to ensure life-long enjoyment of prosperity and financial security, without the traditional hourly billing associated with working with an attorney. They provide the guidance of a trusted advisor throughout, and at the end of, life to guarantee all assets are secured for the future of their families.
Currently, only 47 other lawyers in the country have received this designation.
"I'm thrilled to be included in this elite group of lawyers. I love helping people, being their trusted advisor, and helping them make the best financial decisions for their family for a lifetime. It has been my life's ambition to be this type of lawyer and not just prepare form documents, but develop a real personal relationship with my clients. I'm very fortunate and honored," says Gerald.
For more information about Gerald Kane & Associates services call: 818-905-6088
Attorney Gerald L. Kane founded Gerald L. Kane & Associates in 1994, located in Encino, California. As a Personal Family Lawyer™ he has devoted the last fourteen years to helping thousands of families and businesses in southern California achieve their goals of protecting their wealth through innovative estate and business planning. Gerald likes to think of his firm as a caring, forward-looking, problem-solving vehicle for legally and financially transitioning families, especially today's young family with small children, into the future.
His practice includes helping families with young children, special needs families, business owners, unmarried couples and individuals with transitioning their financial and family wealth to their family. Through his patience and his ability to truly listen to client concerns, he is able to translate his client's vision into a plan that meets their desires and exceeds their expectations, developing lifelong relationships with his clients and their families.
Gerald received the American Jurisprudence award for Wills and Trusts receiving the highest grade in his class at the University Of LaVerne College Of Law. He is a member of Wealth Counsel, a national organization of 1,600 attorneys dedicated to providing sophisticated estate planning techniques for individuals, a charter member of the Academy of Special Needs Planners. He has served as Trustee for Granada Hills Hospital Foundation holding positions of Treasurer and nominating committee chair. Gerald enjoys and feels that it is important to educate and give back to his community.
Gerald lives with his wife, Mimi and daughters, Hailey, 13, and Taylor, 11, in Oak Park, California
For further information contact:
Gerald Kane
818-905-6088
glk@estplan.com
http://www.estplan.com
# # #