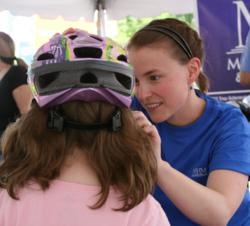 "There is no better way to help ensure a child's safety when bike riding and that is why we are dedicated to offering this public service."

-Paul Harding
Albany, NY (PRWEB) June 25, 2012
Personal injury law firm Martin, Harding & Mazzotti continued its efforts to keep area residents safe when it donated 593 bike helmets to local children. On Wednesday, June 13th, the firm teamed up with 99.5 The River to co-sponsor this year's Free Bike Helmet and Safety Day at Taft Furniture in Albany.
Hundreds of families took part in the event and took advantage of the opportunity offered by Martin, Harding and Mazzotti to fit their children with helmets as bike-riding season gets into full swing. The event included a bike course for kids to ride, special visits from the Midway Fire Department and the Colonie Police Department and D.A.R.E. Unit.
"Severe head injuries and death to bicyclists are absolutely avoidable if the proper precautions are taken," the firm's managing partner Paul Harding said. "Our firm is dedicated to keeping the parents and children in our local community safe."
According to the Insurance Institute for Highway Safety, 70 percent of bicyclists killed in 2010 were not wearing helmets. Even more importantly, helmets have been estimated to reduce the risk of head injury by 85 percent. In New York State, children 14 and younger must wear a helmet approved by the Commissioner of Motor Vehicles. The firm sees the Free Bike Helmet and Safety Event as an opportunity to reduce this risk for local bicyclists and to help keep local children from becoming a statistic.
"It was great to see that so many families took the time to make this event a priority," Paul Harding continued. "There is no better way to help ensure a child's safety when bike riding and that is why we are dedicated to offering this public service."
Over the past 10 years Martin, Harding & Mazzotti has donated thousands of helmets to area efforts to keep local bicyclists and children safe.
Contact: Michelle Hook, 240-723-5407 or msmithhook(at)yahoo(dot)com
About Martin, Harding and Mazzotti, LLP
Martin, Harding & Mazzotti, LLP ® is a law firm whose practice is limited to protecting the rights of those wrongfully injured as a result of negligence. If you or someone you know has been injured, call us toll free at 1800LAW1010 (1.800.529.1010). In 2010, Martin, Harding & Mazzotti expanded their operations into Western Massachusetts. Based in Albany, NY, the law firm has a storied history of actively engaging their community including The Legal Project, an organization in which Paul Harding has taken an active role. The Legal Project is a private, non-profit organization, which provides a variety of free and low cost legal services to the working poor, victims of domestic violence and other underserved individuals in the Capital Region.