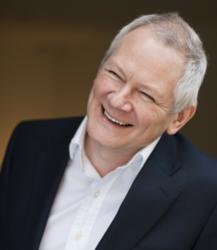 Personal branding is about working out what you want your life story to be: a life story that is authentic, unique to you, compelling to others, and achievable. And then it's about living it.
London, UK (PRWEB UK) 16 August 2012
The personal branding author Simon Middleton says his new one-day self help workshop, taking place in London on Saturday October 20th, has the potential to dramatically change the lives of people attending.
"My Brand New You personal branding workshop is an opportunity to focus for one day, without distractions, on what is really important to the individual, in terms of their career, self-image, and personal journey," said Middleton.
"So many people are frustrated with their work and the arc of their lives, yet so few people take the time out to examine where they are and where they are going. This workshop is that time out," Middleton added.
Middleton's book Brand New You (HayHouse, 2012) is a guide to reinventing oneself through the discipline of personal branding.
The author emphasises that his definition of personal brand has little to do with CV-writing or with dressing smartly, or firm handshakes in interviews.
"I think personal branding is about working out what you want your life story to be: a life story that is authentic, unique to you, compelling to others, and achievable. And then it's about living it. Personal branding as a term doesn't really do the concept justice: it's really about taking control of your own destiny," said Middleton.
"I know this to be true because I've experienced it myself: reinventing my career from frustrated health service manager to creative director, to entrepreneur, author, consultant and musician. You can be the person you have the potential to be, and examining your personal brand is a critical first step."
The Brand New You one day workshop will be held in Wallacespace Covent Garden, an inspiring and exciting venue in an iconic central-London (WC2) location, chosen to maximise the effectiveness of the day.
The next one-day workshop begins with breakfast at the venue for all participants, at 8.15am on Saturday October 20th, 2012. Bookings can be made now online at http://brandnewyouworkshop.eventbrite.co.uk/.
Packed with content, highly interactive and demanding of all your energy, brainpower and imagination, participants at this one day event will learn:

Why personal brand narrative is so powerful – and how to create it
Why establishing a small, distinctive, authentic and compelling set of 'meanings' can change everything
How to build a life strategy based on real strengths and passions
How to define a purpose which will remain strong even as circumstances change
How to hold on to your narrative when times are tough
How to strengthen yourself now by looking back from the future
How to use your defined personal brand to successfully secure a job, a promotion, a career change or a complete life-overhaul
All participants at the Brand New You workshop will receive a complimentary signed copy of 'Brand New You' and Middleton's 2010 book for entrepreneurs 'Build A Brand In 30 Days'.
The ticket to the Brand New You worksop includes healthy foods throughout the day, including: an 8.15am breakfast to kickstart the day; a tasty, delicious and nutritious lunch, prepared on site, with plenty of choice, including vegetarian and gluten free options; day-long refreshments.
Writers, entrepreneurs, business leaders and others have praised Simon Middleton's approach and workshops.
Bev James, The Millionaires' Mentor and author of Do It! Or Ditch It, said: "Simon is a genuine expert in personal branding and his ideas have the potential to change your life".
Linda Ingleson, Customer Service Transformation Specialist said: "Simon is the inspiration behind my success. His skill and humour make changing your life a real joy."
Nigel Cushion, Chairman, NelsonSpirit, said: "Leaders transform others by first transforming themselves. No-one brings this concept alive as well as Simon."
Full details of the Brand New You workshop can be found at http://brandnewyouworkshop.eventbrite.co.uk/
Further Information:
Simon Middleton is one of the UK's leading experts on brands and branding and a highly-experienced personal reinventor. His consultancy firm has advised organisations and individuals all over the world and Simon has appeared on BBC Newsnight, BBC Breakfast, Bloomberg TV, Sky and CNN to discuss brand stories.
He is also the author of popular business books 'Build a Brand in 30 Days' and 'What You Need to Know About Marketing', and he is a retail entrepreneur and founder of market leading folk instrument retailer Banjos Direct.
Note to editors: Simon is available for interview and expert comment and Brand New You is available for extract.
For further information please contact Simon Middleton on 01603 305800 or email simon(at)simonmiddleton(dot)com