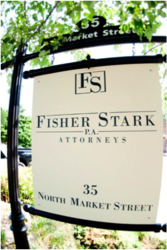 Asheville, North Carolina (PRWEB) February 28, 2013
The current research on how liberals and conservatives think and make decisions is a vital tool to any trial lawyer in understanding how to present their clients' cases. Research suggests that a person's core moral values impact the ways through which each juror will interpret evidence presented in trial, and ultimately decide on a verdict. Liberals and conservatives will view evidence differently and interpret and decide what they feel is the appropriate outcome accordingly.
As part of their ongoing attempt to best represent those who suffer catastrophic and substantial injuries, Perry Fisher and Brad Stark from the law firm of Fisher Stark Cash, P.A. in Asheville, North Carolina, recently attended a 2 day seminar in Miami, Florida with less than 200 other leading personal injury attorneys from across the country.
The seminar provided advanced trial technique discussions through the lens of neuroscience and other scientific research on juror decision making, including the previously mentioned differences between liberals and conservatives. Through the teachings of some of the nation's leading personal injury attorneys, the attendees were given ways to expand their skill base and trial techniques to better serve their clients.
The information presented provided a framework within which to shape and try personal injury cases where liability is contested. The techniques are not ways to manipulate jurors, but are ways to expose the flaws in the defense theories and the subtle tactics that insurance company lawyers use to attack anyone injured. In recent years, the insurance companies hide behind their insured's who made bad choices and attack the injured person rather than take responsibility for the harms and losses. Find information about how to decide on a Personal Injury Attorney in Asheville, NC.
The attorneys at Fisher Stark Cash, P.A. are ready to apply this cutting edge research to their clients cases. Partner, Brad Stark says: "We hope that all attorneys strive to be on the leading edge of research that is applicable to their clients so they may better serve them." Analyzing and learning the current research trends assist the attorneys in presenting a personal injury case, and are another tool to effective representation. For more information, click Personal Injury Attorneys Asheville NC.