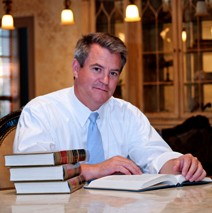 Asheville, North Carolina (PRWEB) March 28, 2013
Perry Fisher, a personal injury attorney at the Asheville North Carolina law firm of Fisher Stark Cash, P.A., recently celebrated 5 years of being an AV Preeminent rated attorney by Martindale-Hubbel.  The law firm of Fisher Stark Cash PA is also recognized as an AV rated law firm.
An AV rating is obtained through Martindale-Hubbell's Peer Review Ratings.  The Martindale-Hubbel ratings offer an objective indicator of a lawyer's high ethical standards and professional ability.  The ratings are generated from evaluations of lawyers by other members of the bar and the judiciary in the United States and Canada. 
Lawyers, like Perry Fisher, who receive this honor have demonstrated unparalleled legal ability, experience and the highest of professional standards.
The "AV" rating is the highest possible Martindale-Hubbell rating and is "a testament to the fact that a lawyer's peers rank him or her at the highest level of professional excellence," according to Lexis-Nexis Martindale-Hubbell. This rating distinction is awarded to less than five percent of all United States lawyers.
Martindale-Hubbell's Peer Review Ratings are not sold or based on mutual nominations. An attorney is only awarded the "AV" rating only after they have earned that distinction based on the anonymous opinions of attorneys and judges who have witnessed the ethics and legal abilities of the rated lawyer.
"I am very honored and humbled to receive this professional distinction from my peers recognizing what I feel is a history of providing outstanding service to my clients, and I look forward to continuing to serve my clients," said Fisher.
Perry Fisher has consistently shown a capacity and drive for excellence throughout his law career and strives each day to improve as an Asheville personal injury lawyer.  Fisher practices at Fisher Stark Cash, P.A., and has a combined experience of representing clients in over 140 jury trials.  
Through his work in personal injury, wrongful death, and traumatic brain injury law, Fisher helps injured victims and their families put their lives back together. Fisher is dedicated to furthering both his legal and local communities, and has served as past President of the 28th Judicial District Bar and been honored for his pro bono service by Pisgah Legal Services in Asheville.
For more information about Perry Fisher and his legal services, call 828-505-4300, visit the firm's website at http://www.ashevilleinjurylawyer.com/, or email perry@fisherstark.com.
 
Fisher Stark Cash, P.A.
35 N Market St, Asheville, NC 28801
(828) 505-4300