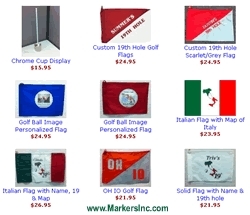 Markers Inc. is proud to contribute to such a worthy cause said Mr. Hlavin
Avon Lake, OH (PRWEB) November 26, 2010
Markers Inc. President, Dale Hlavin, and Mike Trivisonno has kicked off a 'Flags For Linda' fund raising event on WTAM 'The Big One' and MarkersInc.com, who will donate $10.00 to the Linda Trivisonno Endowment Fund for each golf flag and an additional $5.00 for each chrome cup display kit purchased. Just in time for the golf gift season, a select group of attractive custom golf flags is available at http://www.MarkersInc.com.
You can personalize your golf flag with a name, such as 'BOB's 19th Hole' or a picture of your choosing. A chrome golf cup with 24-inch flag stick display is also available to complete the perfect gift. All orders must be received by December 18th for Christmas delivery.
"Markers Inc. is proud to contribute to such a worthy cause said Mr. Hlavin" and will continue to raise funds for The Linda Trivisonno Endowment Fund while offering personalized golf flags and displays, through February 26, 2011, culminating with 'The Linda Trivisonno Endowment Fund Benefit' February 25-26, 2010 at The Hilton Garden Inn in Twinsburg, Ohio. The event will be hosted by Mike Trivisonno and other contributing performing celebrities and special guests.
Funds from 'The Linda Trivisonno Endowment Fund' are used to help families who are crippled by medical bills, paying utility bills, or putting food on the table when hospital expenses make that impossible.
The Linda Trivisonno Endowment Fund at University Hospitals Ireland Cancer Center was established in November of 2009 by WTAM 1100AM radio personality Mike Trivisonno and his family. Named for Linda Trivisonno, who passed away from lung cancer on July 30, 2009, the fund represents a permanent legacy and fitting tribute to the life and spirit of Mike's loving wife and the mother of their three children, Michelle Farinacci, Michael Trivisonno Jr., and Anthony Trivisonno.
Golf Course Supplies & Athletic Field Supplies | Made in USA
Markers Inc. distributes and manufactures products for golf course management including custom golf tournament flags, equipment for high school and college athletic programs, and products for the lawn and garden industry. Markers Inc. has received national acceptance of its MarkSmart™ Athletic Field Marking System, the SmartPole™ brand of fencing and marking systems with many national golf courses and the Holes-n-Poles Yard Products brand of innovative lawn and garden products. For more information visit MarkersInc.com.
Dale Hlavin / President
Markers, Inc.
33490 Pin Oak Parkway
Avon Lake, Ohio 44012
Call Toll Free: 1-866-617-6275
###