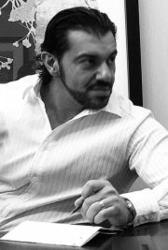 Don't create a duplicate business. Be creative, unique, and think out of the box. This will bring you great success.
Chino Hills CA (PRWEB) September 20, 2012
Keuilian had to come up with some innovative approaches to personal trainer marketing before he could turn his Fit Body Boot Camp into the fastest-growing fitness franchise in the world. The explosion of his company led to him becoming one of the most sought-after personal trainer marketing experts in the country, advising celebrity trainers, fitness experts for television networks and other heavy-hitters. Now his PTPower.com is teaching fitness entrepreneurs how to do the same things that catapulted him to success.
Keuilian might be in the big time now, but he remembers very well what it was like trying to grow his fitness boot camp into a more sustainable (and profitable) business. What turned things around for him was realizing that he needed to spend more time focusing on his business and less on the day-to-day training.
"When I first started out, all I cared about was training my clients, delivering the results, and selling more training sessions," he recalls. "While my income and revenue kept going up, the value of my business didn't." Keuilian was also working very long hours for too little money, which left him little time for family and made him take a hard look at traditional personal trainer marketing. He was doing everything the "marketing experts" advised, but the results were less than stellar.
The first thing he realized was that relying on the traditional personal trainer email marketing campaigns wasn't enough.
"Certain groups of clients are simply not going to respond to an e-mail marketing campaign. Other clients are not going to be excited about a fitness marketing campaign that they get through the regular mail," he advises. "If you want to maximize your client demographics the first step is diversifying your fitness marketing checklist."
That fitness marketing checklist should be at the top of every personal trainer marketing to-do list, says Keuilian. Personal trainers need a checklist they can follow that takes them step-by-step through a diversified system of marketing their business. To create that system, they need to realize that marketing isn't just about passing out business cards or flyers.
"Everything you do is marketing…the before and after pictures and videos you pump out there, the culture that you build within your facility, the referrals your clients give you because they love you. It's all marketing." Keuilian is quick to add, "But those are just the tip of the iceberg."
The rest of the iceberg is what PTPower.com is all about. The site not only offers turnkey marketing systems and consulting services, it also shares a great deal of Keuilian's fitness marketing expertise for free. One of the most popular parts of the site is Keuilian's blog, where one of his most read posts is "7 Ways to Supercharge Your Boot Camp Marketing." Keuilian takes some criticism for giving away information he should be selling, but he sees it as a way of giving back to the personal trainer community.
What's his strongest advice on personal trainer marketing?
"In order to be wildly successful, I can't stress how important it is to stand out. Be different. And march to the beat of your own drum."
###
To find out more about Bedros Keuilian, his company PTPower.com and the Fitness Boot Camp Franchise Fit Body Boot Camp, contact Bedros Keuilian at (800) 261-0208. Alternatively you may use the contact form at http://ptpower.com/contact-me/ or send an email to Bedros Keuilian at support(at)keuilian(dot)com