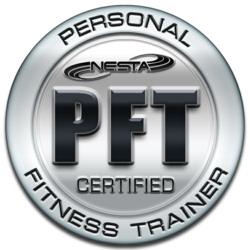 If you want a live training experience to become a personal trainer, this workshop is for you.
Rancho Santa Margarita, CA (PRWEB) March 10, 2013
"Where work becomes play" is the motto and driving force behind the two-day personal training certification workshops delivered by the National Exercise & Sports Trainers Association (NESTA) and Training Made Fun. Upcoming workshops take place in Seattle, San Ramon, Calif., Chicago, City of Industry, Calif., Kansas City, Sherman Oaks, Calif., San Francisco, Tempe, Ariz., Houston, San Diego, Denver, Portland and other locations across the United States.
The two-day intensive and hands-on personal training workshops offer the NESTA Personal Fitness Training certification, which is accredited by the National Commission for Certifying Agencies (NCCA) and is valid for four years, unlike most two-year certifications. Continuing education credits are also awarded for current personal trainers and payment plans are available.
"You can take the first step towards getting certified as a personal fitness trainer, something that will be a lifelong journey full of fitness, exercise, science, passion and education," said John Spencer Ellis, founder of NESTA and John Spencer Ellis Enterprises, a leading national fitness and personal development solutions company. "These outstanding in-person training programs are the ideal complement to our online training and help participants find the fun and challenge in becoming a personal trainer."
The two-day trainings include an initial focus on lecture to ensure sufficient knowledge in functional anatomy, exercise physiology, kinesiology, biomechanics and program design while the second half of the weekend involves hands-on instruction on functional and traditional exercise applications, using various equipment types and tools, and advisement on progressing or regressing exercises. It also includes business and sales training, and each participant receives a follow-up study guide with detailed coverage of the exercise sciences, nutrition, safety and injury prevention, sales and marketing, effective goal-setting, and cardiovascular and resistance training program design.
"In the words of Vince Lombardi, 'The difference between a successful person and others is not a lack of strength, not a lack of knowledge, but rather a lack in will,' and becoming a personal training is all about adding the will, the desire and motivation, to a strong base of strength and knowledge. That's what we're all about in this two-day certification," Ellis added.
Training Made Fun is a sports and fitness training company that focuses on the education and professional development of personal trainers, instructors and coaches.
About NESTA
Since 1992, the National Exercise & Sports Trainers Association (NESTA) has been a leader in innovative solutions for fitness, nutrition and wellness professionals, as well as club owners. Founded by John Spencer Ellis, NESTA now has more than 55,000 members in 55 countries, and it is one of the largest fitness associations in the world, as well as the fastest growing association of its kind in the United States. For more information on NESTA or the personal training workshops, please visit http://trainingmadefun.net/.