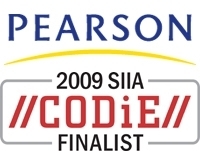 The innovative technology behind Perspective provides educators, families and students with a powerful way to make the critical connection between assessment and improved achievement
Bloomington, Minn. (PRWEB) March 11, 2009
Perspective™ from Pearson, the powerful online remediation and enrichment tool that ties assessment to instruction, was named a finalist in the Software & Information Industry Association's 24th Annual CODiE Awards. The online tool was recognized in the Best Student Assessment Solution category.
Established in 1986, the CODiE Awards celebrate outstanding achievement and vision in the software, digital information and education technology industries. Through a unique combination of journalist and expert peer review, the CODiE Awards finalists were chosen from more than 850 nominations submitted by 600 companies.
Perspective is a ground-breaking, research-based tool designed to provide professionally selected materials that enrich and improve students' knowledge and skills in areas where they are having difficulty. Perspective links students' test results with targeted learning resources and facilitates parental involvement in student improvement. Using the online tool, teachers can create custom assignment sheets, explore unit plans and access an ever-growing library of teacher support materials and professional development opportunities. The CODiE honor is the latest in a growing list of recognition for Perspective. The tool was recently tapped as one of "District Administration" magazine's Top 100 Products of 2008 and also received a 2008 Distinguished Achievement Award from the Association of Educational Publishers. More information about Perspective is available at http://www.pearsonperspective.com/.
"The innovative technology behind Perspective provides educators, families and students with a powerful way to make the critical connection between assessment and improved achievement," said Douglas Kubach, president and CEO, Assessment and Information, Pearson. "We are proud to add this recognition from the technology industry to the growing list of honors of Perspective."
Overall, seven Pearson products were named as finalists in nine categories in the 24th Annual CODiE Awards. In addition to Perspective, the honored products are DRA2™ Handheld - Tango™ Software Edition, eCollege®, MyCompLab®, NovaNET®, PowerSchool® Premier 5.2 and PowerTeacher. With these K-12 and higher education curriculum, classroom management and assessment products, Pearson tops the education industry categories with more finalists than any other company.
In the next step of the CODiE Awards process, SIIA members vote to determine the winners in each category. The 2009 CODiE Awards will be presented at a gala event on May 5 at the Palace Hotel in San Francisco.
About SIIA
The Software & Information Industry Association (SIIA) is the principal trade association for the software and digital content industries. SIIA provides global services in government relations, business development, corporate education and intellectual property protection to more than 500 leading software and information companies. For further information, visit http://www.siia.net.
About Pearson
Pearson (NYSE:PSO), the global leader in education and education technology, reaches and engages today's digital natives with effective and personalized learning, as well as dedicated professional development for their teachers. This commitment is demonstrated in the company's investment in innovative print and digital education materials for preK through college, student information systems and learning management systems, teacher professional development, career certification programs, and testing and assessment products that set the standard for the industry. The company's respected brands include Scott Foresman, Prentice Hall, Addison Wesley, Benjamin Cummings, PEMSolutions, Stanford 10, SuccessNet, MyLabs, PowerSchool, SuccessMaker and many others. Pearson's comprehensive offerings help inform targeted instruction and intervention so that success is within reach of every student at every level of education. Pearson's commitment to education for all is supported by the global philanthropic initiatives of the Pearson Foundation. Pearson's other primary businesses include the Financial Times Group and the Penguin Group. For more information, go to http://www.pearson.com.
# # #