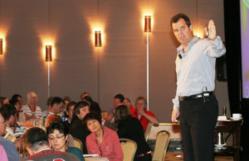 For years I have been teaching my students how to buy and sell property without bank involvement, something that has changed the lives of those who are self employed or who cannot raise a deposit
Sydney, Australia (PRWEB) September 11, 2012
Over the last few weeks, Australian Rick Otton has conducted a series of free one-day workshops on the country's east coast. Responding to appeals from those on the country's western seaboard, Mr. Otton has now announced a free seminar to be held in Perth on September 15, 2012.
The 'tyranny of distance' for which the country is known, often means that those in Western Australia often miss out on learning the high-level, innovative, property investment strategies of the type that are delivered in Otton's 'How To Buy A House For A Dollar' seminars.
"We have just completed a series of seminars that teach everyday Aussies how to create positive cash flow businesses" said Mr. Otton. "These wealth creation strategies don't have geographical borders, and in coming to Perth, we acknowledge that people in Western Australia have as much right to learn them as those in the eastern states."
Earlier in 2012 Mr. Otton published the brand-new real estate book 'How To Buy A House For A Dollar'. These free seminars delve more deeply into the property investment strategies revealed in the book - with the aim of taking people beyond what Mr. Otton describes as 'traditional' real estate transactions.
"For years I have been teaching my students how to buy and sell property without bank involvement, something that has changed the lives of those who are self employed or who cannot raise a deposit" he explained. "People in these situations, or those with a bad credit history, rarely qualify for bank loans - but there are other ways, and these I explore in our one day seminars."
One couple from Perth, A&C Chua, explained how they have embraced Mr Otton's innovative strategies, saying "We recently just helped a lady who lost her job and couldn't afford the mortgage payments. We found a buyer who had problems getting a bank loan because of his past credit history. We put the buyer and seller together. She got rid of her problem. He got the house for his family. We made $40,000 in the deal, everyone is happy and it is a win-win situation."
The 'How To Buy A House For A Dollar' is being held on September 15, 2012, and details are available at HowToBuyAHouseForADollar.com/register
About Rick Otton
Rick Otton has spent decades making money by snapping up inexpensive real estate and putting it to work building wealth. Now, he's teaching other Aussies how to do the same.
Otton is the founder and CEO of We Buy Houses, which operates in the U.S., U.K., Australia and New Zealand putting his strategies to work every day.
Otton got his start in alternative real estate investment in 1991 and within a year acquired 76 properties. In years after, Otton made a fortune using his low-risk, high-reward strategies to inexpensively acquire real estate.
Now, Otton wants to share the wealth by sharing the wisdom, teaching Aussies how to buy and sell real estate without cutting banks and other middlemen in on the deal.
Otton has been featured in a variety of television programs and magazines, including Today Tonight, A Current Affair, Australian Property Investor and more.
You can learn more about Otton and how to invest in residential real estate without using banks at http://www.rickotton.com.
Details of Mr. Otton's free one day Perth property investment seminar can be found at HowToBuyAHouseForADollar.com/register