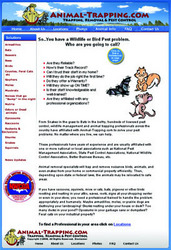 Unlike most referral sites, which take a shotgun approach and refer to all type of services, Animal-Trapping.com takes a very targeted approach and is specific only for the pest and wildlife control industry
Stafford, TX (PRWEB) December 11, 2008
Animal-Trapping.com is excited to announce the launch of its new Web site, a resource for homeowners with pest control problems. The new Web site functions as a referral center for wildlife control and pest control services, and helps homeowners find well-qualified professionals in their area.
The new Web was created to fill a hole in the referral Web site market with regard to pest control services.
"Unlike most referral sites, which take a shotgun approach and refer to all type of services, Animal-Trapping.com takes a very targeted approach and is specific only for the pest and wildlife control industry," says Richard Weisman, President of Animal-Trapping.com. "This allows for rapid and effective searches and direct links to those professional pest control companies."
In addition to filling a hole in the market, the Animal-Trapping.com Web site seeks to provide customers with the highest possible service. Only companies that meet Animal-Trapping.com's high standards of workmanship and reliability, as well as environmental responsibility, are invited to become affiliates of Animal-Trapping.com. As nuisance wildlife becomes a bigger problem in many urban areas, Weisman predicts that both homeowners and pest control professionals are going to be in need of their service.
"Having been in the pest control industry for many years, I wanted to provide a service to other pest and wildlife control companies and to the consumer that wasn't readily available," says Weisman. "Our new Web site offers a solution for people on both sides of the pest problem."
Animal-Trapping.com provides direct links to licensed pest control and wildlife control companies, allowing the consumer to contact the companies directly, avoiding third parties. The Web Site boasts of ease of navigation, and includes information and photos of all types of wildlife pests.
There is no charge to consumers using Animal-Trapping.com, and in honor of the Web site's launch, Animal-Trapping.com is offering professional pest and wildlife control companies a four-month subscription for free.
For more information or to find pest control services in your area, visit Animal-Trapping.com.
About Animal-Trapping.com:
Animal-Trapping.com is a website created to help consumers find professionals in their geographic area to solve wildlife management problems. President Richard Weisman has over 25 years in the pest control and wildlife control industry as the owner of Advanced Pest Control in Houston, Texas , and is extending his expertise to the general public with his new Web site and service. For more information, visit Animal-Trapping.com.
###