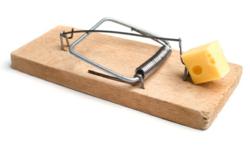 According to the EPA, approximately 10,000 children a year are accidentally exposed to mouse and rat baits.
Parsippany, N.J. (PRWEB) March 28, 2013
As temperatures heat up this spring, pest activity can increase in and around consumers' homes. Experts from Western Pest Services, a New Jersey-based pest control company with branches throughout the Mid-Atlantic and Northeast regions, warn that while this increase in activity may tempt consumers to utilize do-it-yourself (DIY) pest control methods, they should be wary of the potential dangers these methods pose.
"When it comes to pest control, expertise is important – not just because it is the fastest way to eliminate pests, but because it is critical to safety," says Phil Pierce, Technical Services Manager for Western Pest Services. "Too often we uncover botched DIY pest control attempts that ultimately result in a call for professional help. This can lead to less efficient pest control methods, and while that is concerning from a pest control perspective and can cost homeowners more money in the long run, it is even more alarming that many DIY methods attempted put homeowners at risk for harm."
According to the Environmental Protection Agency (EPA), approximately 10,000 children a year are accidentally exposed to mouse and rat baits.
"Our field team witnessed a home where mouse traps covered the kitchen floor," added Pierce. "In that same home, a four-year-old was running around and risked getting a finger caught in one of the traps, which could easily break a bone."
Pierce says it is very common to find homes where people have overdone pesticide applications. "Too often, homeowners will set off a fogger in the attic, and, meanwhile, be sleeping in the bedroom downstairs, which is a clear indication that they are not following the directions in the fogger manual. When you are dealing with chemicals, you have to treat them that way," he stresses.
Missy Henriksen, vice president of public affairs for the National Pest Management Association (NPMA), notes that overreacting to a pest problem can be harmful, especially if it involves mishandling pesticides. "Unfortunately, when it comes to DIY pest control, there are a lot of homeowners that think more is better. But in reality, more can be dangerous. All products used in pest control come with labels stating how that product can be used effectively and safely. Doubling the use of a product or combining products will not increase the likelihood of solving the problem. When it comes to effective pest control, read the labels and consult the professionals for help."
In addition to being harmful to homeowners and their families, DIY pest control methods, when improperly applied, can also be harmful to pets.
"I have walked into the homes of pet owners where rodent baits are set up out in the open," says Pierce. "Dogs and cats can easily ingest certain types of baits that contain pest control materials and get very sick."
To combat the potential dangers of certain pesticides, in January, the EPA announced its intent to prohibit the use of rodent control products that pose risks to children and pets when misused by people who are untrained or unlicensed. These products include DIY rodent control materials that contain loose baits with no protective bait stations to prevent access to children and pets.
"If you think you need professional help with your pest control problem, don't go it alone," says Pierce. "Knowledge is the most powerful form of pest control, so before covering your home in traps, consider turning to a certified professional to keep family members and pets safe and sound. They can also work with you to set up an Integrated Pest Management approach, which limits the use of pesticides through proactive pest control measures."
To learn more about the EPA's regulations on pest control, visit http://www.epa.gov/.
About Western Pest Services
Founded in 1928, New Jersey-based Western Pest Services provides quality pest control to residential and commercial customers with services including: termite control, bed bug detection and extermination, stink bug control, mosquito control and home protection plans. Serving the Northeast and Mid-Atlantic United States, Western is a wholly-owned subsidiary of Rollins, Inc. (NYSE: ROL). Learn more about Western by visiting http://www.westernpest.com. Connect with Western Pest Services on Facebook and YouTube, or on Twitter @WesternPestSrvc. Learn more about Rollins by visiting http://www.rollins.com.
###