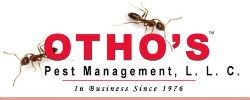 Asheboro, NC (PRWEB) March 22, 2013
With spring here, it is time for some great picnics. Unwanted guests, like ants or other bugs, can ruin a picnic or outdoor event. Otho's Pest Management, a Triad and Asheboro pest control company, wants to help customers make sure their spring and summer is pest-free.
"Now that spring is here, it is best to consider how best to prep and plan for pests," says Otho's owner, Earl Smith.
Otho's also has some interesting facts about ants. For example, ants will sometimes fight for nourishment. Thick antennae on the heads of army ants can withstand many battles against other ants. Ants are also social, not as social as Facebook, but some species have developed complex social societies while others remain more primitive. This means they can hunt in parties searching for nourishment and fighting for it if they are army ants.
So when planning that perfect picnic, look for places ants may seek nourishment before planting a blanket down. Picnickers in their own backyards can stop these problems before they begin. Otho's Pest Management can tailor a control plan in time for all the spring activities in yards and on lawns.
Contact Otho's Pest Management today to get a head-start on pests. Call (336)672-1983 to schedule an appointment.
<br>About the company:<br>
Established in Asheboro North Carolina 1976, Otho's Pest Management is family owned and operated. For over 36 years, Otho's has been serving the Triad area, Asheboro residents and businesses with the safest pest control and transparent business practices. Maintaining the highest levels of technology pest management and business ethics, Otho's staff and pest and wildlife control technicians are state certified or licensed. Getting rid of bugs, pests, insects, wildlife and critters - along with new and old construction treatments are our specialties. Otho's also offers crawlspace moisture control treatments to keep moisture loving insects at bay. Determined to provide the best pest control services, Otho's is dedicated to giving customers the peace of mind of being pest-free. For more information, please visit their website at http://www.othospestmanagement.com.