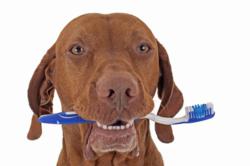 "My number one priority is patient care," says Dr. Cruz. "I try to treat each pet the way I would want my own furry one cared for, and that has been the cornerstone of my practice."
Katy, TX (PRWEB) March 28, 2013
"Doggy breath" is not normal for pets, and is often a sign of a tooth or gum condition. Tooth decay in dogs and cats is more common than many people think. Fortunately, an annual exam and regular care can go a long way to improving a pet's quality of life. February was National Pet Dental Health Month, making it a good time to think about dental cleaning and preventative care. Dr. Norma Cruz of Pet Medical Center in Katy, TX is dedicated to helping keep the family pet healthy, but she knows that times are tough right now for everyone. With the Pet Medical Center's new dental medical plan, both the pet, and the pet owner will be smiling.
"I am pleased to offer a new dental payment plan that will help to ease some of the financial burden on pet owners," says Dr. Cruz. "In our struggling economy, many people are putting off basic dental procedures like routine cleaning. Unfortunately, your pets' teeth need regular cleanings too, and waiting until things have really gone bad can result in dog dental disease, loss of teeth, and can contribute to other health problems."
The new plan is simple and effective, providing owners with the option to split costs into two equal payments 30 days apart. (Any additional services done on the day of the dental service must be paid for at the time of service.) The Pet Medical Center will keep the credit card number on file to be used solely for the second payment, after which the card information will be securely shredded.
Dr. Cruz will conduct a complete oral exam on the pet, which is a vital step in maintaining a pet's dental health. Often this can be done as part of the pet's yearly physical exam and vaccinations. This exam is a routine and safe procedure that is performed under general anesthesia to reduce stress for the pet.
However, if there have been noticeable symptoms – such as chipped or fractured teeth, red or bleeding gums, tartar build-up, or especially bad breath – then the staff at the Pet Medical Center recommend scheduling oral care as soon as convenient. Be alert to other signs, such as increased licking of the lips, lowered interest in chew toys, or a decreased appetite, as these may also indicate a dental problem.
"My number one priority is patient care," says Dr. Cruz. "I try to treat each pet the way I would want my own furry one cared for, and that has been the cornerstone of my practice."
About Pet Medical Center
Pet Medical Center of Katy has been serving the local community and caring for the health of family pets since 2005. Dr. Cruz and her staff are dedicated to caring for all pets. They know that people have a wide choice of veterinary providers, so they offer competitive prices with excellent customer service. Some of their services include:

Dental procedures (cleaning and surgery)
Preventative medicine/vaccinations
Senior pet care
Puppy and kitten care
Call today to schedule a pet dental care exam, or visit their website at http://www.petmedicalkaty.com for more information.
6455 S Fry Rd
Katy, TX 77494, USA
Phone: 281-377-6450