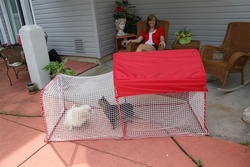 "The new features include a collapsible shade canopy, doors on both ends for easy access to your pet, and a convenient carrying case."
Philadelphia, PA (PRWEB) June 9, 2010
Pet owners all across the country have been raving about the Kritter Kondo, a pet enclosure system that allows you to enjoy the fresh outdoors along with your pet. Both dogs and cats are roaming, active creatures that enjoy the freedom of exploring the outdoors. Unfortunately, there are many dangers waiting for pets outside. This includes motor vehicles, other predatory animals, and food borne illnesses that result from scavenging such as FIV and FeLV. With the Kritter Kondo, your pet is protected from these risks.
"The Kritter Kondo has been such a big hit with pet owners," said Lisa Illman, President of Kritter Kommunity. "We've been lucky to have been featured in top publications like Haute or Not favorite pet gifts for 2009. In 2010, we are looking to build on that success. The Deluxe version of the Kritter Kondo is now available, and it has features never before seen in pet enclosures. The new features include a collapsible shade canopy, doors on both ends for easy access to your pet, and a convenient carrying case."
Haute or Not also reviewed the Deluxe version of the Kritter Kondo, and they had some great comments as well. As mentioned in the article, "the new double door feature even allows you to add a couple of Kritter Kondos together which allows kitty (or small doggies) the enjoyment of the outdoors without any fear of your fur babies pulling a Houdini and disappearing. That can really ruin a fun day at the beach!"
"Our customers asked for more features, and we listened," added Illman. "The one piece portable structure makes it easy to set-up and take down, just like the original. The Deluxe takes our enclosure to another level by providing shade for pets that are looking for cooler temperatures, easy access to reach your pet on either end of the enclosure, and the carrying case to take your Kritter Kondo with you to the beach, parks, hotels, and campgrounds. Summertime with your pet has never been easier!"
For more information about the Kritter Kondo Deluxe, or to purchase one for your pet, visit http://www.KritterKommunity.com.
The Kritter Kondo Deluxe also makes a great gift for rescues and friends with pets.
# # #