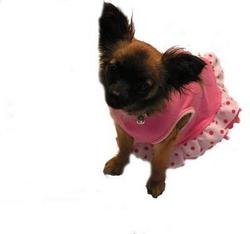 Moochie & Co. is proud to receive this recognition from the leading publication in the pet product industry
Columbus, OH (PRWEB) August 13, 2007
Pet accessory and gift retailer Moochie & Co. has been named the Pet Product News International ® Merchandiser of the Year.
According to a statement issued by Pet Product News International, the leading trade news magazine covering issues and trends affecting the professional pet industry, Moochie & Co. will be profiled in a future issue of the magazine as part of this recognition.
"Moochie & Co. is proud to receive this recognition from the leading publication in the pet product industry," said Merchandising Coordinator Kristie Lewis. "Our focus is and always has been on providing great products to our customers while being active in the pet and animal community."
Moochie & Co. operates nine pet accessory and gift stores in Ohio and Michigan as well as an online store at http://www.moochieandco.com.
According to Pet Product News International, The Retailer of the Year Awards were created 12 years ago to recognize retail excellence in the pet industry. Award nominees are reviewed and evaluated on criteria including employee training, promotion of companion animals and pet adoptions, involvement with human professional and service organizations and community impact.
About Moochie & Co.
Moochie & Co. consistently looks for new pet products that are functional, well made, creatively designed, and offer great value.
In addition to http://www.moochieandco.com, Moochie & Co. pet supply stores are located in Ohio and Michigan. The stores offer thousands of pet supplies and accessories from dog beds and cat toys to rhinestone dog collars and gourmet dog treats.
Moochie& Co. features items that are fashionable as well as functional such as collars with matching leashes, comfy beds, carriers, tasty homemade treats, and toys your pet will enjoy. Moochie & Co. also carries unique, upscale and high fashion items such as jackets, sweaters, t-shirts and boots. Moochie also donates 25 cents from the sale of their "Moochie Brand" dog treats to non-profit animal rescue and support groups.
###