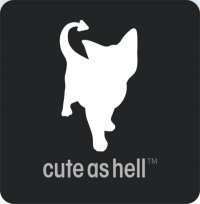 Venice, CA (PRWEB) March 24, 2009
The first of its kind community and shopping website designed for pet people launched just over a week ago - Cute as Hell (Cute as Hell Pet Community). Now the site is announcing the start of their NCAA-style pet competition affectionately called the Thunderdome (Cute as Hell Thunderdome).
Cute as Hell is a pet-tastic Web destination featuring four super cute sections:
PET COMMUNITY:
Create a detailed profile for your pets which includes a Cuteness Rating, pet information, product recommendations, friends, comments, and photos. Video coming soon!
PET STORE:
Buy all kinds of fantastic pet products with our helpful "five-paw" rating structure where the most popular items float to the top.
THUNDERDOME:
A few times a year our 64 top-rated pets battle it out head-to-head in the Thunderdome for a chance to win fabulous prizes and the title of Cute as Hell Pet of the Year! Think the NCAA Basketball Tournament for cute pets - you can even download a bracket and play along at home. Thunderdome prizes include PetSmart gift cards, Apple iPod shuffles, and a Nintendo Wii! Round 1 voting has just started. Get your vote in to make sure the cutest pets win!
LEARN:
A great resource to find local animal shelters, vets, groomers, pet sitters, dog walkers, breeders, rescues, adoption locations, and more - coming soon!
We checked in with Cute as Hell founder Erick Laubach to ask him about why he created Cute as Hell: "My wife and I were looking for a website for our pets - a dog and two cats. We found a few pet-related sites, but none of them had the functionality we wanted while still being well designed, easy to use, and uncluttered. Having a strong creative background and having worked on quite a few start-ups, I figured why not build my own - and voila - Cute as Hell was born. In the next few months, we're going to unveil even more with the goal of making Cute as Hell THE online destination for pet people!"
Creating an account is completely free. Go to http://www.cuteashell.com to learn more.
Read a review from Mashable: http://mashable.com/2009/03/16/cute-as-hell/
About Cute as Hell:
Founded by Erick Laubach in 2008, Cute as Hell is a fun, new community and shopping site made exclusively for pet people. It's a place where your dog, cat, fish, or anything else for that matter, can have their very own pet profile. You can also win fabulous prizes going head to head in the Thunderdome, ask pet-related questions, find a shelter, donate to pet charities, rate products, and buy products recommended by fellow pet people.
###