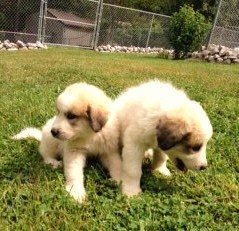 Scottsburg, Indiana (PRWEB) January 31, 2013
Dog shows get underway at the famed Westminster show in New York City in February and continue with contests in towns across America.
As best-of-class winners top the canine competition, any dog can get a clean, healthy champion-like look with all-natural pet soap from Goat Milk Stuff.
Known for its line of natural goat milk soaps, lotions, lip balms and more, Goat Milk Stuff's 5-ounce pet bar soaps are also popular, costing $8 in scented and unscented choices, with half bars also available.
Made to lather well, the pet bar soaps are easier to rinse off than most other pet shampoos. The goat milk in each bar helps to make it gentle and non-irritating on dog's skin. In addition to the scented pet bar, with its proprietary blend of essential oils designed to help repel bugs, there is also an unscented version recommended for cats and pets with sensitive skin.
According to the Humane Society, there are over 78 million dogs in nearly 40% of households, while there are 86 million cats in one-third of the nation's households. The Westminster dog show in New York City, February 9-13, gets the national spotlight, but shows in small towns from Alaska to Maine and North Dakota to Texas showcase dogs.
"With so many pets in America, it's hard to win a contest but they win the hearts of their owners. Both of our dogs get washed with Goat Milk Stuff pet soap after romping around our farm and we feel that other dog owners also want healthy soaps for their dogs," said PJ Jonas, founder.
The media has reported about the merits of Goat Milk Stuff products. CBS-TV's The Doctors, showcased the Jonas family and the products that they make and ship to customers from their Indiana goat farm. Mom PJ and Dad Jim and the 8 alphabetically-named children, ages 5 to 16, each help in age-appropriate ways from milking goats to mailing customer orders.
Also, the family of 10 and Goat Milk Stuff were recently featured in Oprah Magazine. "The same loving care and attention to natural ingredients that we have in making soaps and lotions for people, is shown in the soaps we make for pets," added Jim Jonas, chief soap maker.
Customers of Goat Milk Stuff pet soaps at times write comments on the company website, such as:

We have 5 dogs and with this soap it took a total of 20 minutes (versus 2 hours) to wash all 5.
Easier to rinse out his coat than the stuff they sell at the pet stores. Now puppy smells great!
Lathered almost instantly - no rubbing as with most pet shampoos. Easy to work through the coat and down to the skin, rinsed completely with little effort. Baths took 1/2 the normal time.
The Jonas business maintains an active social media presence with a growing following on Facebook at Facebook.com/GoatMilkStuff, YouTube at YouTube.com/GoatMilkStuff and on Twitter at Twitter.com/GoatMilkStuff.
Online at http://www.GoatMilkStuff.com, the Scottsburg, Indiana company makes and markets all-natural Goat Milk Stuff™ products including goat milk soaps, lip balms, lotions, bath bombs, laundry soap, soy candles and more. For media contact Brian Dobson at DobsonPR.com or BD (at) DobsonPR (dot) com