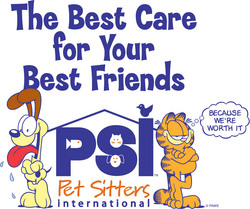 As someone who's been pet-sitting a big orange tabby for more than 30 years, I'm honored to help select the winner of this competition
Kiing, NC (Vocus) November 11, 2010
Garfield creator Jim Davis will participate as a judge in Pet Sitters International's (PSI's) 2010 Pet Sitter of the Year™ selection process. First awarded by PSI in 1995, the Pet Sitter of the Year designation is the industry's highest honor.
PSI's Pet Sitter of the Year embodies the heart and soul of the professional pet-sitting industry and serves as an example to the industry and pet-owning public. Davis, who maintains control of Garfield licensing through Paws Incorporated, was a natural fit for the selection committee. The company prides itself on its simple business philosophy to 'take care of the cat and the cat will take care of you.'
"As someone who's been pet-sitting a big orange tabby for more than 30 years, I'm honored to help select the winner of this competition," Davis said. "This is an impressive program and the judging criteria details specific requirements for industry contributions, business knowledge and marketing savvy."
Additional judges on the selection committee include David Pearsall, vice president of Business Insurers of the Carolinas, and Cara Armor, PSI's 2009 Pet Sitter of the Year winner.
Nominations for the award are received from professional pet-sitters' clients and pet professionals, such as veterinarians. This year, more than 850 nominations were submitted for 67 individual pet sitters. Judges evaluate nominations based on observations of the pet sitters' commitment to PSI's Standards of Excellence, degree of professionalism, and dedication and personal involvement in animal issues and their communities.
The Pet Sitter of the Year winner, along with the four finalists, is announced in February at the association's annual convention.
About Pet Sitters International
Established in 1994, Pet Sitters International (PSI) is the world's largest educational association for professional pet sitters, representing nearly 7,600 independent professional pet-sitting businesses in the United States, Canada and abroad. PSI provides members with access to affordable bonding and liability insurance and educational resources including a comprehensive Accreditation Program, The Pet Sitter's WORLD magazine and PSI's annual Quest convention. For more information, visit http://www.petsit.com, home of the Official Pet Sitter Locator™ or visit the PSIStoreOnline, the largest specialty retailer of products for pet sitters and pet-sitter business owners.
Contact: Beth Stultz
Phone: (336) 983-7797
E-mail: bethstultz(at)petsit(dot)com
Contact: Terry Chance
Phone (336) 983-2991
E-mail: terrychance(at)petsit(dot)com
###