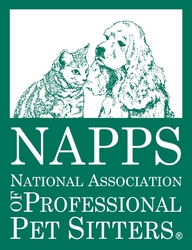 Our mission is to provide education and tools to increase professionalism to new and existing NAPPS members. We value highly the reputation of our members to provide superb pet sitting services in your local community as well as fostering a strong network of pet parents who know that with a www.petsitters.org [NAPPS] member they get the best trained and professional pet sitter available.
(Vocus) March 11, 2008
The ASPCA and the American Veterinary Association have stated that the first year cost associated with a new pet can exceed $1500 for a puppy and $650 for a cat. This estimate does not include any fees related to training the puppy or exceptional boarding instances. The AVA figures were determined based on costs for services ranging from spay/neuter fees (and other first year medical costs) to incidental expenditures such as providing grooming , premium dry food, collars or leases and even licenses in certain states.
Is it not logical with this type of large investment in a pet to provide professional care when the pet parent is required to be away from home for a short or long period of time? It is no surprise that professional pet sitting is fast becoming one of the most popular home based businesses in the country. A pet parent, however, when choosing a pet sitter who will be in your home watching over your pet and house must be careful to ask these questions of that "professional" pet sitter you hire;
1. Is the pet sitter a member of an accredited national pet sitters Association such as the NAPPS (National Association of Professional Pet Sitters)? This non-profit organization provides location and training resources to create a true professional pet sitter as well as a code of ethics accepted by all NAPPS members.
2. Can the pet sitter provide local references that can be checked or verified by the pet parent prior to hiring?
3. Is the pet sitter insured and bonded with credentials?
Candace Labane-Godfrey, President of NAPPS and herself a pet parent says on behalf of her organization of professional pet sitters, "Our mission is to provide education and tools to increase professionalism to new and existing NAPPS members. We value highly the reputation of our members to provide superb pet sitting services in your local community as well as fostering a strong network of pet parents who know that with a NAPPS member they get the best trained and professional pet sitter available."
###