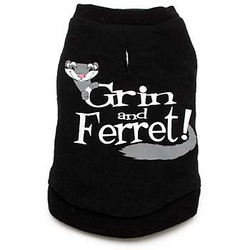 (Vocus) November 16, 2007
Fashion-forward pets will take to the runway at PETCO's Fall Fashion Show , Saturday, Nov. 17, at 2 p.m. in PETCO stores nationwide.
When: Saturday, Nov. 17, 2007 at 2 p.m.
Where: Your neighborhood PETCO store and more than 850 other locations nationwide
Web Site: To find a participating store near you visit, PETCO.com
Satellite Feed Available. Coordinates are below.
Time: 1630 – 1700 Eastern (4:30 – 5:00 PM)
Satellite & Transponder: AMC5/12E (AMC5 is located at 79 degrees west)
Downlink Frequency & Polarity: 12045 (H)
Information Rate: 5.5
Symbol Rate: 3.9787
FEC: ¾
Feed Point: (239) 939-6207
Fashion Show Facts:

During the event, pets dressed to impress will strut down PETCO's catwalk, showing off the latest fall fashions.
Customers can bring their favorite outfits from home or shop DC, PETCO's exclusive line of the highest fashion for your pet, available at all PETCO stores and PETCO.com.
Prizes will be awarded for "Best in Show" and "Best in Show – PETCO Apparel."
The first 20 pet fashionistas will receive a free Pup-arazzi Polaroid photo in a special frame and chic canines will be treated to hors d'oeuvres, courtesy of the event's sponsor, Natural Balance.
Customers visiting PETCO Nov. 17th and 18th will receive 25 percent off all DC apparel fashion carriers and collars.
The American Pet Product Manufacturers Association (APPMA) says 46 percent of dog owners purchased clothes for their dog during the last 12 months.
More than 13,000 pets made their way to PETCO last March for the company's spring pet fashion show, including cats, ferrets, rabbits, reptiles and even some pot-bellied pigs.
Fashion is for more than just dogs. PETCO's exclusive fall collection includes stylish collars, leashes, and carriers for chic pet parents. The company also carries a new line of ferret T-shirts with attitude, such as the popular "Grin and Ferret."
For more information or to locate a store near you, visit http://www.PETCO.com. To get the latest news on anything and everything PETCO – from updates about the company to incredible acts of animal kindness, visit the company's blog at http://www.petconews.com.
Contacts:
Rachel McLennan, PETCO
858-453-7845
rachelmc @ petco.com
Don Cowan, PETCO
619-417-5244
donc @ petco.com
###