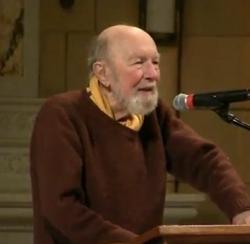 Esopus, New York (PRWEB) March 10, 2013
At age 93, folk legend Pete Seeger rallied to appear on Thursday, February 28, 2013 at the Mount Community in Esopus, New York to celebrate the beginning of a new Bruderhof community.
The highpoint of the celebration was a festive sing-along concert with about 300 people. Occasionally exchanging his iconic five-string banjo for a 12-string guitar with the distinctive triangular sound hole of his own design, Seeger led the children and adults of the Bruderhof in popular folk songs ranging from the classic anthem of the Civil Rights Movement, "We Shall Overcome," through popular favorites like "She'll Be Coming Round the Mountain," to challenging activist pieces like "Take It From Dr. King."
Seeger reminisced about the Selma to Montgomery march, an event in which he had taken part. Seeger went on to challenge the youth that were present to take up the nonviolent fight for freedom and justice through singing.
Seeger's wife Toshi was unable to attend for health reasons, but in celebration of their upcoming seventieth wedding anniversary, Seeger gratefully accepted a basket of local produce including a family favorite: home-boiled maple syrup. As the basket was presented to Seeger, a group of Bruderhof youth sang his newest theme song, "God's Counting on Me, God's Counting on You."
As the festivities came to an end, Seeger acknowledged his warm relationship with the Bruderhof movement, which has spanned nearly fifty years. Emphasizing their shared commitment to music and social justice, Seeger exchanged his sing-along memoir, "Where Have All the Flowers Gone," for a copy of the most recent Bruderhof folk song collection. In a stirring tribute to that common purpose, Seeger invited a group of young musicians to come up and join him singing "Quite Early Morning," symbolically underscoring the line "And when these fingers can strum no longer / Hand the old banjo to young ones stronger."