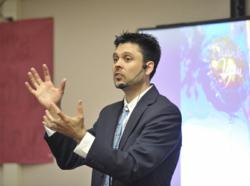 Nominees like Matthew Peterson are making a difference in education every day.
Irvine, CA (PRWEB) June 13, 2013
MIND Research Institute co-founder Matthew Peterson, Ph.D., is one of five finalists in the Academy of Education Arts and Sciences' 2013 Bammy Awards for "Innovator of the Year." Peterson, a neuroscientist, is known for creating the ST Math® visual learning program used by more than half a million students in 30 states.
Peterson, who as a child struggled with traditional language-based instruction due to dyslexia, created the ST Math to teach students math through his unique, non-language-based, visual approach. After earning his Ph.D. in neuroscience from UC Berkeley, Peterson co-founded MIND in 1998 with two other renowned scientists to apply academic research on the brain to educational programs for elementary school students. Over the years, he's developed more than 300 visual math games in 800 variations, continually refining and improving the ST Math curricula.
Currently used in six of the nation's 10 largest public school districts, students and teachers using ST Math have on average doubled growth in math proficiency. Based on neuroscience research, the ST Math instructional software provides visual, computer-based math puzzles that support deep, conceptual understanding of math concepts. Because the program doesn't rely on language proficiency, or prior math proficiency, it's accessible for English language learners and children with learning disabilities.
"Nominees like Matthew Peterson are making a difference in education every day. It's more important now than ever to publicly honor educators and to show what's right with American education," said Errol St. Clair Smith, executive producer of the Bammy Awards. "The positive response to the inaugural Bammy Awards in 2012 was overwhelming. Clearly the notion of collaboratively acknowledging what our nation's educators are doing well is an idea whose time has come."
Peterson is nominated for "Innovator of the Year" alongside Robin Lowell, James Ewing, Kevin Honeycutt and Adam Seldow. The 2013 Bammy Awards honor a total of 23 categories ranging from education policy makers to school nurses.
"I'm honored to have my life's work be recognized nationally by peers and education thought leaders involved with the Bammy's," said Peterson. "The greatest honor, though, is getting to work every day with a team of creative problem solvers who are determined to completely change the way math is taught, and give all students brighter futures. We have a long way to go, but the target is in clear sight."
As a non-profit, MIND Research and its philanthropic partners offer grants to enable high-needs schools to participate in the ST Math program. Called Math Initiatives, these grant programs were created by MIND Research to address the need for major public school systems to better prepare students to excel in math from a young age. About 191,000 students in 15 urban areas currently use ST Math through the Math Initiatives.
Bammy honorees will be announced on September 21 at a red-carpet event in Washington, D.C. The Bammy Awards are presented by The Academy of Education Arts and Sciences International, which includes leading educators, education leaders, education professors, journalists, editors, researchers, commentators, advocates, activists, visionaries and pioneers. The Academy is comprised of a board of governors, a council of peers and the executive committee.
About MIND Research Institute
MIND Research Institute is a neuroscience and education research-based, non-profit corporation. MIND applies its distinctive visual approach to illustrating math concepts and building problem-solving skills as the basis for innovative, research-proven math education programs for elementary and secondary schools. MIND's programs currently reach over 500,000 students and 21,000 teachers in more than 1,780 schools in 30 states. For more information, visit http://www.mindresearch.net.
About the Bammy Awards
The Bammy Awards were created in response to the relentless national criticism of America's public schools. The negative perception of public education has led to a decrease in public confidence, calls for reductions in financial support and intense scrutiny of educators, while all that is right in American education is largely ignored.
Modeled on the broad scope of the Oscars, Grammys and Emmys, the Bammy Awards are presented by the Academy's Council of Peers and Board of Governors. The Academy accepts nominations in dozens of disparate categories, selects honorees, and brings together constituents from the entire education community to recognize the honorees at a red-carpet, black–tie awards event on September 21st in Washington, D.C.
Based on the notion that it takes a village to educate a child, the Academy identifies, recognizes and celebrates the contributions of education professionals, para-professionals and support staff across the entire field -- from teachers, principals and superintendents to school nurses, advocates, researchers, early childhood specialists, education journalists, facilities maintenance staff, special needs professionals, school board members, parents and more.
The Bammy Awards acknowledge that teachers can't educate children alone and don't do it alone. The awards aim to foster cross-discipline recognition for the vital role played by every member of the education village, encourage collaboration and respect across the various domains, elevate education and education successes in the public eye, and raise the profile and voices of the many undervalued and unrecognized people who are making a difference in the field every day.
About the Academy of Education Arts and Sciences
The Academy is comprised of over 213 prominent education leaders. Charter members of the Academy include a profoundly eclectic cadre of persons involved in education, including Dr. Linda Darling-Hammond, professor of education at Stanford University; Diane Ravitch, former Assistant Secretary of Education; Nancy Poliseno, president of the National Association for Middle Level Education; Dr. Mark Ginsberg, former head of the National Association for the Education of Young Children and currently dean of the College of Education and Human Development at George Mason University; Daniel Pink,New York Times , Wall Street Journal best selling author, former aide aide to Secretary of Labor Robert Reich, and chief speech writer for Vice President Al Gore; Dr. Timothy Shriver, CEO of the Special Olympics; Dr. Freeman A.Hrabowski III, president of the University of Maryland, Baltimore County; Jay Mathews, veteran education columnist at the Washington Post; Dan Domenech , executive director of the American Association of School Administrators, Gail Connelly, executive director of the National Association of Elementary School Principals, JoAnne Bartoletti, executive director or the National Association of Secondary School Principals; Donna Mazyck, executive director of the National Association of School Nurses; and Rosemarie T. Truglio, Ph.D., vice-president of research and education for Sesame Workshop.