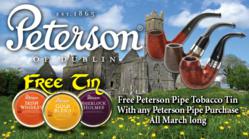 Peterson pipes are already very reasonably priced, and the free tin gives customers an average savings of over 10%.
Albany, NY (PRWEB) March 19, 2013
PipesandCigars.com is a leading online tobacconist, specializing in offering the web's widest selection of cigars, humidors, pipes, pipe tobacco, and smoking accessories. Each year the company publishes two calendars, one for smoking pipes and pipe tobacco, and the other for cigars. The calendars feature brands of the month, that have a special promotional offer the is active for the entire month. For March of 2013, the company has selected Peterson pipes as their pipe of the month, and for the duration of March, customers who purchase a Peterson pipe from PipesandCigars.com will receive a free 50g tin of the Peterson tobacco of their choice.
Peterson pipes are among the best-known and most popular brands of pipes available today. Founded in Dublin, Ireland in 1865, the company has a rich history and tradition of excellence. Their wide variety of pipes makes them a staple in the collections of nearly all serious pipe smokers. Their limited edition annual releases cause a huge stir in the pipe collecting community and always sell out nearly instantly.
"Picking this iconic Irish brand as the featured special for the month that contains Saint Patrick's Day is an easy decision," said PipesandCigars.com owner Scott Bendett, "it just fits perfectly. Peterson is a company steeped in history and tradition, and they are very much entwined with their Irish heritage. It makes for a great time of year for people to add another Peterson to their collection, and the free bonus tin offers smokers an even better value. Peterson pipes are already very reasonably priced, and the free tin gives customers an average savings of over 10%. We're very pleased to be able to work with the fine folks at Peterson to put their quality briars in the hands of a whole bunch of smokers this month."
PipesandCigars.com has set the promotion up via their website to allow for maximum ease and flexibility for users. When a shopper adds a Peterson pipe to their shopping cart, an item representing the free promotional tin is automatically added to the cart along with it. That item shows the customer that they are to receive a free tin, and they are asked to specify which blend they'd like in the comments section of the order form. PipesandCigars.com will add the requested tin to the order, and in cases where customers do not specify a Peterson blend, the PipesandCigars.com staff will select a free tin themselves for the order.
For more information on the Peterson pipe sale or PipesandCigars.com's other featured monthly specials, please visit PipesandCigars.com or call their customer service department at 800-494-9144.
About PipesandCigars.com: PipesandCigars.com is an industry-leading online tobacconist dedicated to bringing customers the widest selection of cigars, pipes, pipe tobacco and tobacco accessories. The company features premium cigars from brands like Ashton cigars, Padron cigars, Oliva cigars, Montecristo cigars, Macanudo cigars, CAO cigars, and many more. They are the low-cost leader in pipe tobacco on brands like GL Pease, Sam Gawith, Captian Black, Borkum Riff and many more. They feature thousands of pipes, ranging from inexpensive Corn Cobs and Dr. Grabow pipes all the way to the premium brands like Dunhill and other fine hand-carved pipes.