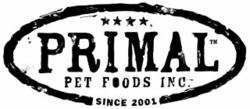 We make decisions based upon what is best for pets, so when we began to roll out our coupon program, we chose CommonKindness.
San Francisco, CA (PRWEB) March 26, 2013
Pet lovers can save money on their Primal Pet Foods Canine or Feline Freeze-Dried Formula purchases while supporting organizations that care for America's four legged friends, by downloading and redeeming free, high-value coupons now available at CommonKindness.com.
CommonKindness is the online coupon website that donates 20 percent of its coupon redemption revenues to nonprofit organizations chosen by shoppers when they visit CommonKindness.com and download coupons. Primal Pet Foods customers can designate a national organization like the ASPCA or PAWS, or their local animal shelter, as recipients of the funds their coupon purchases generate.
"We make decisions based upon what is best for pets, so when we began to roll out our coupon program, we chose CommonKindness," said Kyle Frautnick, Primal Pet Foods Marketing Director. "Now, in addition to bringing the best pet product to the marketplace, we are also giving pet owners a free and easy way to make a financial contribution to their favorite pet organizations."
Species appropriate diets for Canines and Felines
Since dogs and cats are very different animals, having diets formulated with each of their needs in mind makes perfect sense. With the use of highly-digestible food products, Primal Pet Foods offers the nutrients essential to life in a superior, bio-available composition. Primal Pet Foods feels it is imperative to offer a better source of nutrition to pets as an alarming number of animals are being diagnosed with diet-related disease. Primal Formulas are nutritionally complete raw diets that are to be fed as a full-time, ongoing feeding program.
Quality sourcing makes all the difference
All of Primal Pet Foods' raw pet foods and treats are produced using the freshest, human-grade ingredients, including antibiotic- and steroid-free meat, poultry, and game, certified organic produce, certified organic minerals, and unrefined vitamins. Primal Pet Foods procures its ingredients from ranchers throughout the United States who take pride in producing wholesome sources of protein through natural, sustainable agriculture.
Appropriate for Pets with Food Sensitivities
Because Primal Pet Foods are grain- and gluten-free, they are an excellent choice for pets with food sensitivities. Primal products contain a superior form of highly digestible amino acids, vitamins, and minerals—the building blocks for every animal's biological functions.
"Primal Pet Foods is working hard to elevate the health of our pets and to educate us on the benefits of feeding high-quality nutritional foods," said Sarah Schloemer, president of CommonKindness.com. "We are proud to carry Primal Pet Foods coupons on CommonKindness.com."
About Primal Pet Foods
Primal Pet Foods is a San Francisco-based manufacturer of fully prepared, human-grade raw foods and treats for dogs and cats. Primal Pet Foods was founded with the goal of improving the quality of life and overall health and happiness of pets through wholesome raw foods that mimic the diet of animals in the wild.
To learn more, go to PrimalPetFoods.com or call (866) 566-4652.
About CommonKindness
CommonKindness is the new free grocery coupon website that operates on the principle of kindness and aims to benefit consumers, nonprofit organizations, and brands. CommonKindness is revolutionizing the online coupon industry by eliminating coupon loading and change costs, charging brands only for coupons redeemed, and giving 20 percent of revenues to nonprofit organizations of the shopper's choice.
To learn more, go to CommonKindness.com or call (415) 729-9658.