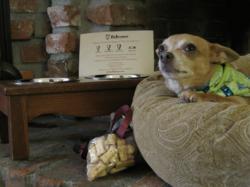 Even better, $10 from each package benefits Napa Humane in their important work. In 2011, Harvest Inn donated over $800 to Napa Humane through this package.

St. Helena, CA (PRWEB) March 06, 2012
Resident pup Peanut, resident pup at Napa Valley's dog friendly Harvest Inn, unleashes its new 'Love Me, Love My Dog' package in time for spring travelers and their four-legged friends to bask in the beauty and romance of the Napa Valley. This year, Peanut teamed up with his neighbors at dog friendly V. Sattui Winery to add a $50 certificate to the package, perfect for a premium wine tasting for two and picnic lunch on their beautiful grounds. Even better, $10 from each package benefits Napa Humane in their important work. In 2011, Harvest Inn donated over $800 to Napa Humane through this package.
Guests and their beloved dogs can also enter the Pretty Pucci Contest – simply send a photo of the Pucci Pooch enjoying the newly renovated Harvest Inn – to win a one night stay for Fido (with owners, of course) on the next visit, a $100 value. Each month one winner will be selected by Peanut and the Inn's staff. Photos should be sent to: Peanut@harvestinn.com.
'Love Me, Love My Dog' includes lots of creature comforts - an elegant doggie bed, food and water bowls, bow-wow tasty treats, Fido magazine, a list of pet-friendly wineries and restaurants and a 10% off coupon at Fideaux, a boutique pet store with locations in St. Helena and Healdsburg. The Harvest Inn's eight beautifully landscaped acres inspire romps and the vineyard adjacent trail is perfect for sunset walks. Then stretch your legs and leash at V.Sattui's two acre picnic grounds with expansive grass lawn and beautiful gardens. Use the $50 certificate to enjoy a premium wine tasting for two and then select a picnic from the winery's well-stocked Marketplace with over 200 artisanal cheeses, charcuterie and locally baked breads. The package is priced at $100 per night in addition to the room rate, with 'Love Me, Love My Dog' starting at $399/night, not including taxes.
The package also includes:

Personal concierge assistance in planning itinerary and activities
Complimentary wine country breakfast each morning
Complimentary wine and cheese tasting on Friday and Saturday evenings in the Inn's Great Room
Access to the Fitness Center and swimming pools
On-site parking
Internet access
For the latest events and specials join Harvest Inn on Facebook and Twitter.
Reservations: toll-free at 1-800-950-8466 or at http://www.harvestinn.com .
About the Harvest Inn
The newly renovated Harvest Inn is a world-renowned AAA Four Diamond country-style estate located in St. Helena, surrounded by premium wineries and extraordinary dining. Charming brick and wood cottages, guest rooms and suites are spread over eight acres of gorgeously landscaped gardens, making the Inn an ideal setting for a well-deserved, relaxing vacation getaway or intimate honeymoon. The Inn also features two heated swimming pools and massage treatment rooms tucked into the gardens and Redwoods.
All accommodations include breakfast daily, a wealth of amenities including aromatherapy personal care items, large flat screen televisions with DVD players, refrigerated mini-bar with coffee/tea maker, high-speed Internet access and more. Most include fireplaces. With stunning vineyard views and the Mayacamas Mountains just beyond, guests long to linger in the warm atmosphere with hand-crafted fireplaces, intricate woodwork and country estate ambience.
The Main Lodge features a welcoming lobby with singular 20-foot ceilings and custom carved woodwork throughout. Just beyond the lobby is the Inn's spacious Great Room where guests enjoy fireside wine tastings beside the massive cobblestone hearth. The cozy wine bar is open daily until 11p.m. offering fine samples of local vintages, as well as tranquil views, handsome leather sofas, a grand piano and backgammon tables. Complimentary guided wine and cheese tastings from local producers are offered on Thursday, Friday and Saturday nights in The Great Room.
About Napa Humane
The Humane Society of Napa County & SPCA – known as "Napa Humane" – is a 501 (c)(3) non-profit organization incorporated in 1972. Napa Humane's programs and services are uniquely designed to address the needs of companion animals and to provide support, education, and assistance for all the people who care for and about them.
To ensure a healthy pet and people population they hold a weekly low-cost vaccination and microchipping clinic, so that lost pets can swiftly find their way home. Napa Humane also operates a high-volume, affordable spay/neuter clinic serving pets throughout the Napa Valley. Napa Humane works beyond shelter walls with its Mobile Adoption Unit, taking pets from the Napa County Animal Shelter into the community to find their forever homes. They also provide humane education programs for children and adults who care for animals at home.
Napa Humane's Vision: A humane home for every adoptable companion animal in Napa Valley.
Napa Humane's Mission: To promote the welfare of companion animals through protection, advocacy, education, and by example.
For more information about Napa Humane and its services, please visit http://www.napahumane.org or call 707-255-8118.
About V. Sattui Winery
V. Sattui Winery is a fourth-generation family-owned winery. V. Sattui makes 45 different wines. Recent recognition of the winery's commitment to excellence is its selection as "Winery of the Year" at the 2012 Winemaker Challenge and "Best of the Bay" winner in the 2011 San Francisco Bay Guardian.
Founded in 1885 by Vittorio Sattui, today V. Sattui Winery is the only winery in Napa Valley with its own extensive deli offering house-made prepared foods from salads to charcuterie to pastas, pizza, and barbecued fare and over 200 cheeses from around the world. Visitors can assemble a picnic and enjoy it outdoors under the centuries-old oak trees on the winery grounds.
V. Sattui Winery is located 1.5 miles south of St. Helena at 1111 White Lane; the winery is open seven days a week from 9 a.m. to 5 p.m.; no reservations required. More at http://www.vsattui.com or 707/963-7774.