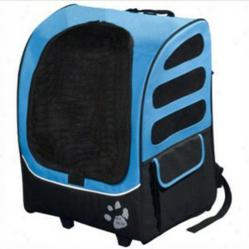 "Make your next trip hassle free with our Airline Approved Pet Carriers", says Fred Elabed, Owner of PetsAlley.com
Cleveland, Ohio (PRWEB) December 04, 2012
PetsAlley.com (http://www.petsalley.com), a leading Internet retailer has added even more pet carriers to their already significant pet carrier collection just in time for the holidays. New pet carriers added include airline approved dog carriers, dog backpacks, designer dog carriers, and standard dog carriers.
PetsAlley.com knows that dog carriers are crucial for traveling with dogs. Experts agree that securing a pet while traveling is essential to a pet's safety. So help a dog feel special and protected, by picking one of these adorable dog carriers that fits the needs and personality of a furry friend. PetsAlley.com has added these new pet carriers because people travel often during the holiday season. These new pet carriers encompass a wide variety of features:
o Size. All sizes fitting dogs from 4 lbs. to over 15 lbs.
o Features. Popular features such as airline approved, folding/portable, rolling, and water
resistant.
o Colors. Wide variety of colors such as black, blue, brown, green, orange, pink, purple, and other colors.
o Material. Nylon, canvas, cotton, faux leather, mesh and other materials.
o Style. Backpack pet carriers, front pet carriers, rolling pet carriers, and pet totes/purses.
o All In One Pet Carriers that can be a pet carrier, car seat, backpack, roller bag and pet tote. The I GO 2 Plus Traveler Pet Carrier for example is a five-one one pet carrier that provides much flexible to the busy pet!
o Elegantly designed pet carriers. European designed pet carriers allow pets to join the love of luxury with the economy of convenience.
o Airline Approved Pet Carriers.
For years PetsAlley.com has heard from customers about the concerns and worries of flying with a pet in an airliner's cabin. Even when a pet carrier is marked "airline approved," the small print can still leave people guessing. PetsAlley.com has worked with the very top brands in the pet carrier market to make a line of pet carriers airline approved. All the pet carriers in the "Airline Approved Dog Carriers" category on the website are guaranteed to get a dog on the plane. Make this year's holiday travel hassle free with PetsAlley.com's Airline Approved Pet Carriers!
About PetsAlley.com
PetsAlley.com is a leading Internet retailer providing unique and hard to find pet products. PetsAlley.com's goal it to be a shopping destination and one stop shop for high quality products for pets. PetsAlley.com pet products are not sold at retail!
PetsAlley.com offers a wide variety of niche pet products not sold at retail to all pet owners through PetsAlley.com and other niche pet e-commerce websites:
PetsAlley.com: Offering an unparalleled selection and high quality pet carriers, dog crates, dog beds, dog strollers, dog clothes, pet furniture and other niche pet products on the Internet. PetsAlley.com carries the top brands in airline approved dog carriers, dog crates, pet strollers, cat beds and cat furniture!
BirdCages4Less.com: A one-stop shop for all bird cages and bird supplies. BirdCages4Less.com specializes in a variety of quality, safe bird cages from small bird cages to large bird cages, bird cage covers and bird playstands and bird supplies for a birds everyday living!
RabbitCages.com: Find quality rabbit cage, rabbit hutches, and rabbit supplies at RabbitCages.com. Experience great prices and fast shipping for rabbit cages and rabbit hutches at RabbitCages.com!
SleepyPets.com: Offering dog and cat lovers the very best in dog beds, dog furniture and cat beds on the Internet. SleepyPets.com offers a wide variety of dog, cat, and pet bedding!