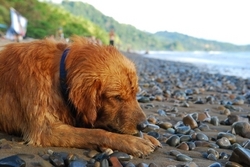 even the healthiest pets can suffer from dehydration, heat stroke and sunburn if overexposed to the heat, and heat stroke can be fatal if not treated promptly
Surrey, BC (PRWEB) July 23, 2010
Recent summers appear to be getting hotter and global warming suggests the trend isn't changing any time soon. Several cities, even as you go further north, report record temperatures and we respond by turning up the air conditioning, munching large bowls of ice cream, and taking long, leisurely dips in the pool. Critter Cures, a certified online pet pharmacy, is reminding pet owners that as we suffer the heat, so do our pets.
Dogs and cats do not sweat like humans to balance their body temperatures. Dogs and cats will either sweat through their paws, or when very hot, pant to reduce their body temperature. Nevertheless, as pet owners, it is our responsibility to help our pets keep cool in a heat wave. Clearly, access to water and shade can have a significant impact on our pets' comfort but we can also limit exercise and stay out of the heat.
Sadly, every year humane societies report numerous pet deaths due to heat stroke. Dr. Lila Miller, ASPCA Vice President of Veterinary Outreach, explains that "even the healthiest pets can suffer from dehydration, heat stroke and sunburn if overexposed to the heat, and heat stroke can be fatal if not treated promptly." One of the major causes of death during heat waves is leaving pets in cars while you do errands or travel. During the hottest summer days, the inside temperature of a car can easily reach 120°F within a few minutes, even in the shade. Because dogs and cats don't sweat and rely on dispelling heat through the pads of their feet and sweating, they overheat more quickly than humans.
Never leave your pet unattended in a vehicle during the summer. Critter Cures advises that if you must go out to do errands, it is safer to leave your pet at home with a source of water and access to cooler temperatures. Moreover, pay it forward and be vigilant about other pets. If you see a pet locked in a car at a parking lot, alert the store manager to notify customers or even call animal shelter/control or the SPCA.
Critter Cures is a certified online pet pharmacy offering a secure and affordable way to keep your pet or farm animals healthy. Medications are FDA approved and filled by a licensed pharmacist.
For more information, visit http://www.crittercures.com
# # #