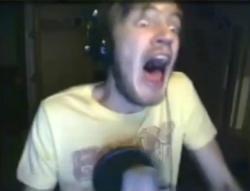 BARRELS!
Auckland, New Zealand (PRWEB) September 21, 2012
Pewdiepie who has two million subscribers on Youtube since joining on 4/29/2010, is a 22 year old Swedish video producer and gamer and has the fastest growing channel on Youtube, averaging 14,171 new subscribers per day, with a 151% growth in subscribers over the last 90 days according to pewdiepie blog.
Pewdiepie, whose real name is Felix Kjellberg, produces and edits videos on Youtube for the horror and action video game niche, recording himself via webcam and providing humorous commentary as he plays through the videos.
Felix has completed play throughs of many popular horror and suspense games such as Amensia: Dark Descent and The Walking Dead. The channel also supports independent game developers such as Freebird Games which produced the point and click adventure To The Moon and the highly entertaining McPixel series.
Pewdiepie has been featured in the King of the Web competition as well as being involved in charity drives for organisations such as the World Wildlife Foundation and St Judes Research Hospital.
Pewdiepie is expected to be the 7th most subscribed channel on Youtube in the next 90 days according to xvidstats.com, with a 1,252,170 projected subscriber gain, bringing an estimated number of subscribers to 3,230,228. This is the highest projected subscriber gain out of any channel on Youtube.