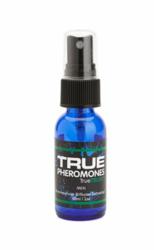 True Trust has amplified my entire sales team. Our numbers have never been higher and judging by the before and after statistics, True Trust is the reason for this. It's science and it does work.
New York, NY (PRWEB) November 16, 2012
True Pheromones is pleased to announce its new product True Trust. It can be used by both men and women and is geared toward sales and corporate professionals. It is an oxytocin centered pheromone system, which additionally, makes use of Androstenol (a communication based pheromone) to effortlessly increase interaction between people on a subconscious level. Mixing Oxytocin with Androstenone pheromones in this new formula makes this product more unique than any other product in the market.
Oxytocin is the top trust boosting pheromone in humans. It is known to build an extremely close relationship among individuals. Also, it is produced in women who are pregnant and post child birth to develop trust and emotions of affection between a new mother and her newborn baby. The feelings it generates are linked to love, binding, warmth, passion, harmony, safety as well as the afterglow of love making. Androstenone helps humans become attractive to the opposite sex. Androstenol makes humans more approachable and research shows that people will open and speak to the wearer of pheromones very easily and frequently with friendly communication. Also, it creates an incredible boost in close communication.
People can use this brand new product just about everywhere. Office environment to succeed in a business venture, friendships to increase feelings of trust, sales setting to accomplish targets, relationship scene to attract that special someone, a waiter can increase the amount of tip he or she gets, even use it to influence your boss to give you an incremental raise. This product will help you achieve your goals.
As it is largely composed of oxytocin, there is no chance of overdose. Specialists highly recommend business professionals to get started by applying two sprays of True Trust to any warm area of the body that is very close to the blood stream like arm pits, back of your ear or maybe on your arm. Steadily, apply a few more sprays as you identify the appropriate amount to get the best results. Normally, people shouldn't use more than 5 sprays. The effect of True Trust lasts for about 4 to 6 hours. The reapplication of the product is up to the discretion of the user.
True Pheromones goods are manufactured with the very best quality, and promise their clients of its effectiveness. They are incredibly confident to the extent that they give an entire year to customers to assess the product. This would mean that a purchaser has got three hundred and sixty five days from the minute the customer receives the order to find out whether it truly does work for them. In case they seem to be disappointed with the effects, they can just send back the product, with zero questions asked and receive all of the cash back. Normally the item is shipped on the same day and can be purchased for your entire team of sales professionals.
A satisfied and content user stated "I ordered True Trust to assist me on the job. I take care of patients who don't usually feel good and tend to be grumpy. I figured it might make them relaxed for the time that I needed to do my work. Initially, I guess it for the most part worked well on me. I seemed to be a happy camper. Later on, a few patients who would initially be grumpy would end up smiling and pleasant by the time I was finished. It has made my work so much easier in that aspect. Thanks a ton for making a product like this." This brand product has truly worked wonders for a number of people. More information can be found here: http://www.truepheromones.com